March 14 is a day to celebrate one of the few (if not only) mathematical holidays – Pi Day. The symbol Pi represents the ratio of the circumference of a circle to its diameter, and is commonly known as 3.14, though the digits beyond the decimal continue infinitely. Typically, celebrations play on the name of the number (hence the celebration on 3/14), and include lots and lots of pie. To get in the mathematical groove, whip up one of these tasty pies for your own Pi party. Just top it off with 3.14 written in icing and you are good to go!
Chocolate Cream Pie
This simple pie is sure to be a hit with even the pickiest eaters!
Ingredients:
1/2 cup cocoa

1/4 cup flour or cornstarch

3 egg yolks

1 1/2 cups sugar

1/4 tsp salt

2 cups milk

1 tsp vanilla

1 pie shell
Directions:
In a small bowl, beat the egg yolks until just combined.

In a large pot, mix together cocoa, flour or cornstarch, the beaten egg yolks, sugar, and salt.

Add the milk gradually, and turn the burner on to medium-high heat.

Cook the mix until it becomes thick and smooth, stirring constantly for about 10-15 minutes.

Once it becomes thick, remove from heat and add vanilla.

Pour into a homemade or pre-made pie shell and put in the fridge to chill.

Add whipped cream and serve.

Lemon Meringue Pie
The zing of citrus in this pie will certainly brighten your day. Plus, it is super easy to make!
Ingredients:
1 can condensed milk

3 eggs, separated

1/4 cup lemon juice

1 pie shell

1 tsp lemon zest

1/4 cup sugar

1 tsp vanilla
Directions:
Preheat oven to 375 degrees.

Prick the pie shell on the bottom with a fork, then bake until light brown. Remove from the oven and allow to cool.

Separate eggs, and put the egg whites in a small, clean mixing bowl.

In a medium bowl, combine condensed milk, egg yolks, lemon juice, and zest until the mixture begins to thicken.

Pour filling mixture into the pie shell.

To make the meringue, use a hand mixer to beat the egg whites until soft peaks form.

Add sugar and vanilla and continue to beat the mix until shiny, stiff peaks form.

Use a spatula to spread the meringue over the top of the pie, pressing lightly and lifting the spatula slightly to make soft peaks.

Bake until peaks turn golden brown.

Remove from oven and place on a rack to cool. Enjoy when cooled, or refrigerate to eat later.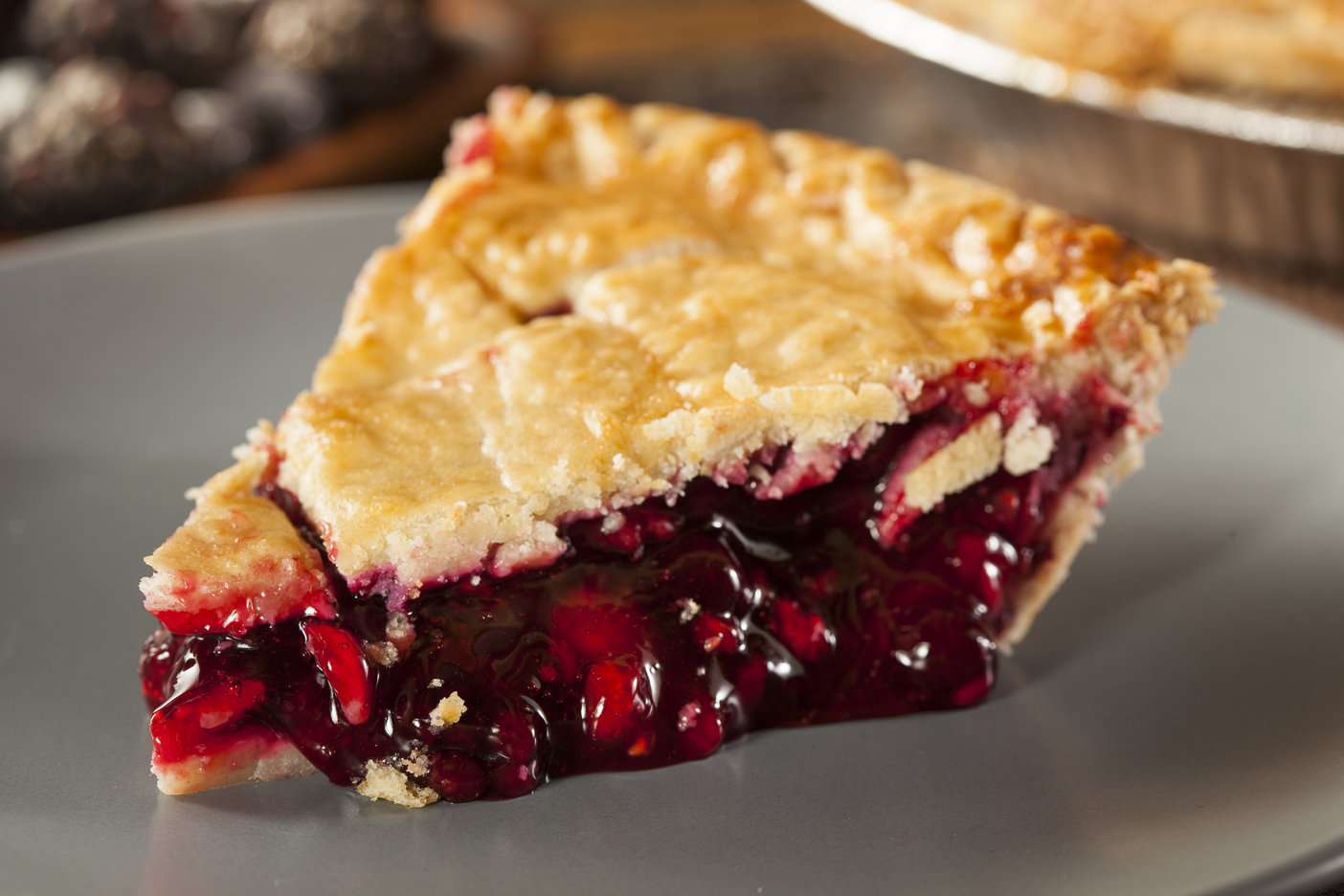 Blackberry Pie
Fruit pies can be made out of season, and this one proves that they can still be delicious by using easier (and cheaper) frozen blackberries.
Ingredients:
3/4 cup sugar

3 tbsp flour

A dash of salt

1 lb bag of frozen blackberries

2 tsp lemon juice

Pie shell w/ top pie crust

2 tbsp butter
Directions:
Preheat oven to 375 degrees.

In a large bowl, fold together sugar, flour, salt, blackberries, and lemon juice. Pour into prepared pie shell.

Cut the 2 tablespoons of butter into small squares and place evenly over the berries.

Cover with a top crust – either a whole crust with a few slits or sliced into lattice form.

Bake for 40-45 minutes. Let cool for at least 10 minutes.

Serve warm or cold.



Chocolate Peanut Butter Pie (aka Reese's Pie)
This no-bake recipe makes about 2 8-inch pies, or a 9-inch pie and a little extra to nosh on.
Ingredients:
1 1/2 cups peanut butter

2 cups powdered sugar

1/2 cup melted butter

1 9-inch graham cracker crust, or 2 8-inch graham cracker crusts

Chocolate pudding mix

Milk

Whipped cream

Reese's Peanut Butter Cups
Directions:
In a large bowl, mix peanut butter, powdered sugar, and butter together until smooth.

Press the peanut mix into a graham cracker crust to form the bottom peanut butter layer.

In a medium-sized bowl, prepare the chocolate pudding mix according to the pie making directions on the box. Pour over peanut butter layer

Refrigerate for at least one hour, then cover with whipped cream and chopped up Reese's candies.
Peach Pie
Indulge in a sweet peach pie with the entire family. This recipe is sure to get your taste buds singing!

Ingredients:
1 package pastry for a 9 inch double crust pie

1 egg, beaten

5 cups of peaches, sliced

2 tablespoons lemon juice

½ cup all-purpose flour

1 cup white sugar

½ teaspoon ground cinnamon

½ teaspoon ground nutmeg

¼ teaspoon salt

2 tablespoons butter
Instructions:
1. Preheat your oven to 450 degrees F.
2. Line the bottom and sides of pie plate (about 9 inches) with one of the pie crusts then brush with some of the beaten egg to keep the dough from getting soggy later on.
3. Take the sliced peaches and place them in a large bowl, then sprinkle with lemon juice. Gently mix.
4. In a separate bowl, mix together the sugar, flour, nutmeg, cinnamon and salt then pour over the peaches, mixing gently.
5. Slowly pour into the pie crust, dotting with butter.
6. Cover with the other pie crust, and fold the edges under.
7. Flute the edges to seal or press the edges with the tines of a fork dipped in egg.
8. Brush the rest of the egg over the top of the crust then cut several slits in the top crust to vent steam.
9. Bake in preheated oven for 10 minutes and then reduce the heat to 350 degrees F. 10. Then bake for an additional 30-35 minutes or until crust is brown and juice begins to bubble. If the edges brown too fast, cover them with aluminum foil about halfway through baking.
11. Cool before serving then enjoy!

Classic Apple Pie
You can never go wrong with a classic apple pie! Check out this recipe for a tasty dish that is sure to impress the whole family.

Ingredients:
1 recipe pastry for a 9 inch double crust pie

½ cup of unsalted butter

2 tablespoons all-purpose flour

¼ cup of water

½ cup white sugar

½ cup brown sugar, packed

8 Granny Smith apples, peeled, cored and sliced
Instructions:
1. Preheat your oven to 425 degrees F while melting butter in a sauce pan.
2. Stir the flour in to form a paste then add water, white sugar and brown sugar, and bring to a boil. Reduce temperature and let simmer.
3. Place the bottom crust in your pan then fill with apples, mounded slightly. Cover with a lattice work crust.
4. Gently pour the sugar and butter liquid over the crust.
5. Bake in preheated oven for 15 minutes then reduce the temperature to 250 degrees F. Continue baking for 35-45 minutes, until the apples are soft, then serve.

S'mores Pie
Who doesn't love s'mores?! Your children will love this delicious recipe, plus, it's a great treat for that sweet tooth!

Ingredients:
Graham cracker crust

2 boxes of chocolate cook and serve pudding

Nutella – about ¼ cup

½ cup of marshmallow cream

¾ cup of mini marshmallows
Instructions:
1. See package directions to cook pudding. While it cools, spread a layer of marshmallow cream in the bottom of the pie crust. Then spread Nutella over the top of the marshmallow.
2. Pour the chocolate pudding into the pie crust; allow to cool for about 10 minutes.
3. Sprinkle the mini marshmallows over the top so that all the pudding is covered. Then place the pie under the broiler just until the marshmallows toast. Be sure to keep an eye on them so they don't burn.
4. Cool the pie then cover and refrigerate.

Chicken Pot Pie
Check out this savory chicken pot pie recipe that will add the perfect touch to your Pi Day dinner!

Ingredients:
1 cup of diced potatoes

1 cup of diced onions

1 cup of diced celery

1 cup of diced carrots

½ cup of melted margarine

½ cup all-purpose flour

2 cups chicken broth

1 cup half-and-half

1 teaspoon salt

½ teaspoon pepper

4 cups chicken, cooked and chopped

2 pie crusts
Instructions:
1. Preheat your oven to 400 degrees F while sautéing the celery, carrots, onion and potatoes in margarine for 10 minutes.
2. Add flour to the mixture, mixing well, and then cook for one minute while constantly stirring.
3. Combine the broth and half and half.
4. Gradually stir into vegetable mixture.
5. Cook over medium heat constantly stirring until thickened.
6. Stir in salt and pepper then add chicken and mix well.
7. Pour into a shallow 2 quart casserole dish and top with pie shells.
8. Cut slits to allow steam to escape.
9. Bake for 40-50 minutes or until golden brown and filling is cooked through.

Taco Pie
Get creative for Pi Day with a pie made of ground beef, nacho chips and cheese toppings for a Mexican style taco pie!

Ingredients:
1 package of crescent rolls (8 ounce)

Nacho chips

1 lb. ground beef

1 package of taco seasoning

Sour cream

Shredded taco cheese
Instructions:
1. Arrange crescent rolls in a pie pan to resemble a pie crust.
2. Brown the ground beef and mix the taco seasoning according to the directions on the package.
3. Put 1 layer of crushed nacho chips, sour cream, ground beef mixture, shredded cheese and more crushed nacho chips on top of the crescent rolls.
4. Bake at 325 degrees F for 20-25 minutes.
5. Add any other toppings after baking (tomatoes, olives, lettuce, more sour cream) then serve and indulge!

These great pie recipes can be prepared for other occasions as well, perfect to bring to a party or to have as a treat at your own get together. They're not too difficult to make and kids can help in the process all while learning about National Pi Day.