East Meadow, NY - October 28, 2016 - The AHRC Walk, Nassau County's largest event for those with intellectual and developmental disabilities (I/DD) and their families, will again set the pace for fundraising and advocacy on Sunday, Oct. 30, in Eisenhower Park.

As the leading event for the AHRC Foundation, the AHRC Walk will offer a three-mile course and engaging post-walk activities to raise funds for the over 2,200 people with I/DD supported through affiliate organizations, including AHRC Nassau, Brookville Center for Children's Services and Citizens Options Unlimited.

"We need to create greater awareness that people with I/DD are living, working and actively contributing to Long Island's quality of life," said Mary McNamara, AHRC Foundation Director. "At the AHRC Walk, we celebrate how far we've come and look to where we must we go to fulfill the promise of greater equality and inclusion."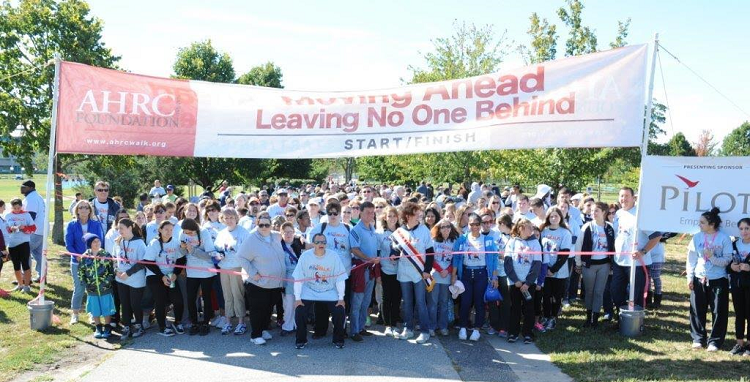 Photo by: AHRC Foundation.
The AHRC Walk starts and finishes under the banner of "moving ahead, leaving no one behind," and offers an opportunity for self-advocates, like Coleen Mackin, to come together and show their support.

Mackin, who is also Nassau County Representative for the Self-Advocacy Association of New York State said, "I walk to share my story. I am proud, and want people to understand what is possible and what needs to happen next."

Over the past 40 years, significant advances have been made for those with I/DD, however several issues remain front of mind for the walkers — in particular the New York State mandate that all sheltered workshops must close by 2020.

"AHRC Nassau is transforming its vocational workshop through its AHRC Workforce Division and creating diverse business lines that will offer inclusive employment for people with developmental disabilities.

However, greater support is needed for longer-term, sustainable employment," said Roz Goldmacher, AHRC Foundation Board Member and President of the Long Island Development Corporation.

"The lack of inclusion of those with I/DD in the workforce remains a call to action," said Goldmacher.

"Hiring people with I/DD offers a pathway for highly motivated people to become employed while promoting an inclusive culture within the business community."

If you would like to make a donation or register for the AHRC Walk, please visit www.ahrcwalk.org.
About the AHRC Foundation
The Nassau County AHRC Foundation is a non-profit organization whose purpose is to publicly solicit and receive funds for the benefit of people with intellectual and developmental disabilities. Thousands of children and adults benefit from the Foundation's support to organizations such as AHRC Nassau, Brookville Center for Children's Services, and Citizens Options Unlimited, which includes Camp Loyaltown as well as other community-based organizations serving people with special needs.