One constant that has existed through the years is that keeping the things you deem important safe and sound is paramount, whether you're a homeowner or a business owner. Since 1938, the Centre Lock Shop – family-owned and run – has been upholding the security needs of Long Island residents and businesses in a wide variety of ways, while maintaining the personal touch that you would expect from a local business.
Centre Lock Shop of Rockville Centre
is steeped in Long Island history. Owned by husband and wife duo of Steven and Janette Frey, the business first opened its doors in 1938; in 1959, the shop was purchased by Steven's father, who passed it on to his son, and now Steven's son Douglas has come aboard, truly making Centre Lock Shop a family business generations in the making.
Centre Lock Shop offers a variety of services relating to locksmithing and beyond, from changing of locks and bolts to the installation of high-tech keycard-based industrial and corporate security access systems. Essentially, if it has to do with keeping unauthorized people out of places they don't belong, Centre Lock Shop can handle the job.
"We are a complete locksmith service company, and we service both commercial and residential applications" said Steven. "We specialize in custom master key systems and both new installations of hardware and repair. We have high security, restricted key systems, electronic locks that function by card or combination…all cutting-edge stuff. But we also can change all the traditional locks on your new home when you move in…we do it all."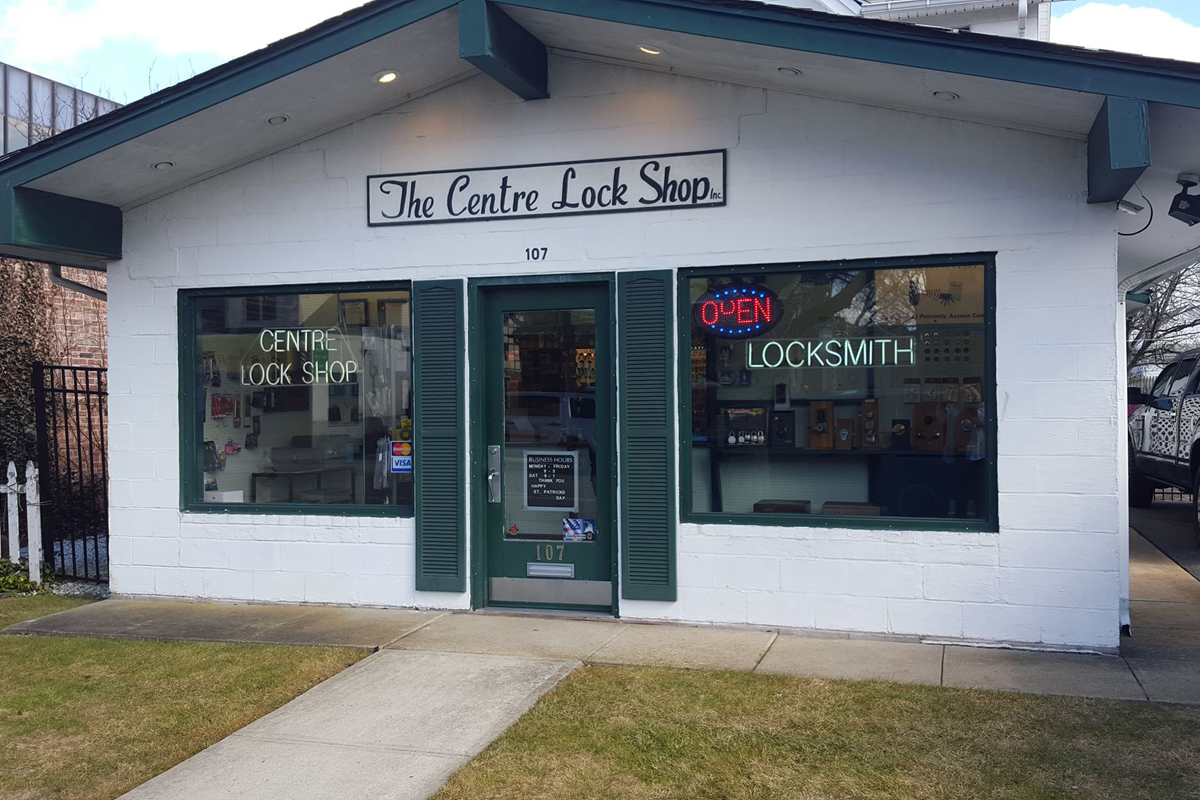 Centre Lock Shop is located at 107 North Park Avenue in Rockville Centre, NY. Photo Credit: Centre Lock Shop
Nowadays, more and more locksmiths are taking a more casual approach to their businesses, more often than not running them out of their vans or garages; however, Centre Lock Shop maintains a professional sheen with their Rockville Centre storefront, offering customers an actual physical location to visit in order to check out merchandise in-person before making a decision to buy. That aspect of their business – along with three fully-equipped service vehicles and the expertise of long-time employees Jeff and Mike – sets the Centre Lock Shop apart from the competition.
The fact that Centre Lock Shop services the security needs numerous hospitals and other similar facilities has established them as an essential business, so while business has taken a bit of a hit throughout the ongoing COVID-19 pandemic, things overall have been better for them than other companies, Steven said.
Steven noted that having a family-run business is a huge source of pride for him, as well as the reputation and close bond he has established with the community that he strives to serve as best as he can, each and every time.
"It's been a unique experience, and one I'm very proud of. To us, it's not just a job, it's our passion, it's out family," he said. "Over the years we've received several awards from the community and the Town of Hempstead, and we've had customers that started coming to us since my father bought the business, people using us for over 50 years. We get to know our customers, what they need and expect, so they get exactly what they need. Anytime a customer calls us, we take care of them as best as we can. We take their security very seriously and very personally, and give them the best value for their money. We're not just working for today's job, we're working for tomorrow's job."
To find out more about the Centre Lock Shop of Rockville Centre please call (516) 766-2326 or visit
www.thecentrelockshop.com
.