When you're just looking for a little bit more on your burger try one of the below insane creations by some of the most original burger joints on Long Island.
Photo: Provided by Zinburger.
The French Dip at Zinburger Wine & Burger Bar
This insane burger is a certified angus beef and prime rib blended patty ground in-house at Zinburger (their chefs combine top quality certified angus beef shoulder and ribeye steak to create a beautiful marbled patty bursting with flavor), with provolone cheese, fried onion strings, and parmesan horseradish créme. All of this served on a freshly baked potato bun with a side of au jus perfect for dipping. Location: Walt Whitman Shops, 160 Walt Whitman Road, Huntington Station, (631) 271-3891. Follow them on Instagram and Facebook.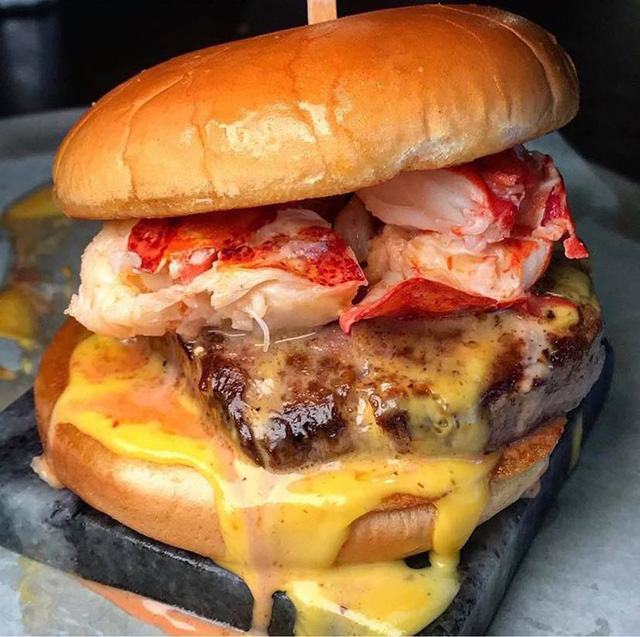 Photo: the Rex Burger & Lobster Company Facebook Page.
Filet Mignon & Maine Lobster Burger at The Rex Burger & Lobster
As spotted on their Facebook page, this insane creation is a filet mignon sandwich with sweet Maine lobster. Surf and turf never was never so easy to eat! Location: 524 Jericho Turnpike, Mineola, (516) 739-2747. Follow them on Instagram and Facebook.
Photo: Dirty Burger Company Facebook Page.
The Dirty Texan at Dirty Burger
According to the restaurant's website, The Dirty Texan will tower over all other burgers. It's got pulled pork, bacon, sliced jalapeños, pepper jack cheese, an onion ring and BBQ sauce. They recommend pairing it with a side of dirty tots for the ultimate Dirty experience. Yee Haw! Location: 12 Manetto Hill Mall, Plainview, (516) 595-7399. Follow them on Instagram and Facebook.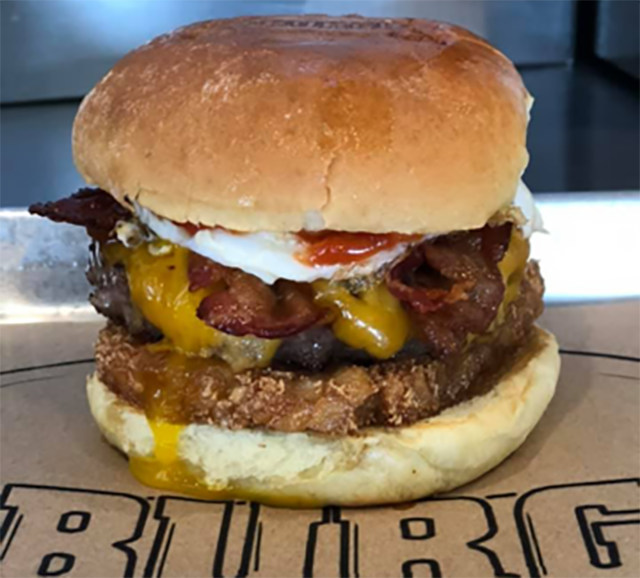 Photo: Provided by Go Burger.
French Onion Soup Burger at Go Burger
This burger is made to your liking, topped with homemade French onion soup, and a combination of melted Swiss and mozzarella cheese on a toasted bun. The soup is slow cooked and the onions are carmelized to create the perfect sweet yet savory soup. The way the burger and the soup compliment each other is amazing and the cheese combination just completes the family of flavors. Oui, oui! Locations: 271 Route 25a, Mt. Sinai, (631) 432-3331; 1899 Middle Country Road, Ridge, (631) 252-0008. Follow them on Instagram and Facebook.
Photo: Local Burger Company Facebook Page.
Peanut Butter Burger at Local Burger Company
A insane Peanut Butter Burger. It's a bacon cheddar burger topped with all natural peanut butter. They use Laurels Peanut Butter. Its locally made with "no crap, just nuts." You're just going to have to trust them on this one, it's insane. Locations: 62 E Main Street, Bay Shore, (631) 647-8300; 76 W Main Street, Patchogue,(631) 730-7373. Follow them on Instagram and Facebook.