The primary runway at Islip's MacArthur airport got some TLC recently.
The runway - designated as Runway 6/24 in a statement released by the Town of Islip - underwent a $16MM improvement project that was completed this week.
The runway upgrade includes new energy-efficient LED lighting, replacing all 139 in-pavement runway centerline lights, and associated conduit and cabling, new pavement, and enhanced pitching.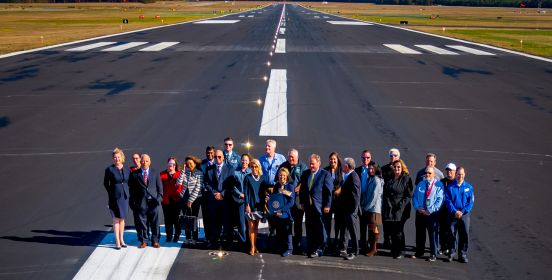 Officials gather on Runway 6/24 to mark the end of a $16MM improvement project. Photo: Town of Islip.
The FAA authorized a $14.28 million grant for the rehabilitation work in 2018.mThe remaining funding was secured from NY State and the local share funded by Passenger Facility Charge (PFC). The total project cost was $16,378,161.
"It had been roughly 20 years since the 7,006-ft Runway 6/24 had a complete rehabilitation," said Rob Schneider, Deputy Commissioner of Aviation for the Town of Islip. "Normal wear and tear causes asphalt to deteriorate."
Rehabilitation and paving consisted of 74,000 tons of new asphalt and the runway work improved drainage and run off.
Shelley LaRose-Arken, commissioner of Long Island MacArthur Airport, said that the project was completed ahead of schedule and on-budget.
"Runway 6/24 is our primary runway, and its service life is essential to serving our airlines, general aviation operations and customers with excellence now, and going into the future," she said.