St. James, NY - October 12, 2017 - For the fourth consecutive year, fifth through eighth grade students from Harbor Country Day School spent several hours on October 6 exploring, analyzing, and collecting data from one of Long Island's most precious natural resources, the Nissequogue River.
The annual Day in the Life of the Nissequogue River program, sponsored by the Central Pine Barrens Commission, Brookhaven National Laboratory, New York State Department of Environmental Conservation, and the Suffolk County Water Authority, brings students to the Nissequogue River in order to engage in hands-on "citizen science exploration" of the river. Other Day in the Life events on Long Island this year included similar visits to the Carmans River and the Peconic Estuary.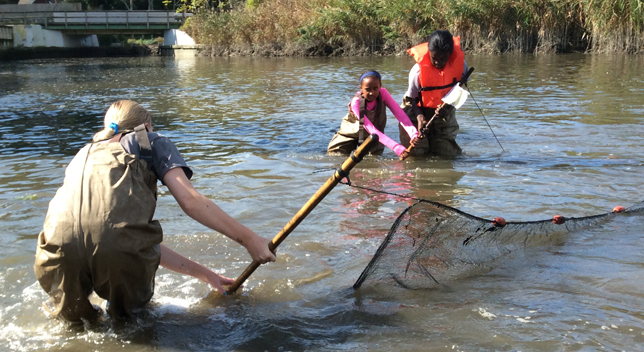 HCDS students use seine net at Nissequogue River. Photo Credit:

Harbor Country Day School
During their time at the Nissequogue River, Harbor students used a seine net to collect and identify fish and macroinvertebrates; collected and analyzed water samples to monitor the river's water quality; conducted a physical analysis of external forces affecting the river; and analyzed the rocks, minerals, and other characteristics of the river.
"We are proud to have had the opportunity yet again to participate in the Day in the Life of the Nissequogue River," said John Cissel, Head of School at Harbor Country Day School. "Since we first joined this program four years ago, it has become a key element in our science curriculum. Not only are students learning about Long Island's precious natural resources through unforgettable first-hand experiences, they also are developing advanced skills such as collecting and publishing scientific data that they otherwise might not develop until much later in their academic pursuits. The knowledge they gain by physically working as 'citizen scientists' at the Nissequogue River will stick with them for the rest of their lives -- far beyond anything they might read in a textbook."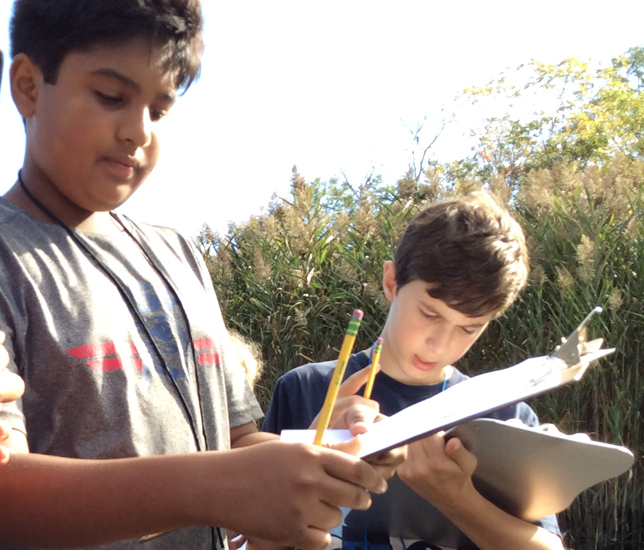 HCDS Students Analyze Data at Nissequogue River
. Photo Credit:
Harbor Country Day School

All data the students collected is made public and is used for various environmental purposes, including tracking the health of the aquatic ecosystem and biodiversity of the Nissequogue River. In addition, the program raises awareness among children about the importance of protecting Long Island's aquatic ecosystems, especially as water quality issues continue to permeate Long Island.
About Harbor Country Day School
Founded in 1958 by conscientious parents, Harbor Country Day School is an independent, co-educational school for children from Preschool through Grade Eight located in the Village of Head of the Harbor in St. James. The school's mission, "Harbor cherishes childhood, cultivates wonder and inspires confident learners and leaders," is at the center of the school's program and culture, underscoring every child's experience at Harbor Country Day School. Emphasizing a whole-child approach to education, Harbor offers a rigorous curriculum enhanced by strong offerings in technology, visual and performing arts, advisory, and athletics, as well as an emphasis on character development. Graduates of Harbor Country Day School are fearless learners and reflective leaders who negotiate effectively and possess the moral and ethical foundation that prepares them to exhibit compassion and tolerance in a global community. Harbor Country Day School is also home to a leading Long Island summer program, Camp Harbor, which includes educational workshops designed to inspire curiosity, in addition to more traditional camp offerings.
Harbor Country Day School is chartered by the New York State Board of Regents and is accredited by, and a member of, the New York State Association of Independent Schools (NYSAIS). It is a non-sectarian, nonprofit organization under section 501(c) (3) of the IRS Code governed by a self-perpetuating board of trustees. For more information, visit www.hcdsny.org.