Enjoy these old-time pictures of Long Island farms and farm equipment.
East Hampton Town Truck with Silos in Background - This image shows a truck labelled "Town of East Hampton". The front of the truck appears to be deconstructed or damaged in some way. Two silos are visible in the background. This photograph was either taken or collected by Amagansett historian and librarian Carleton Kelsey.
Photo: Amagansett Historical Association. East Hampton Library, Long Island Collection.
Taken in 1902 this photograph captures a woman feeding chickens, pictured with a young boy and dog, on a farm located on the South Fork of Long Island, New York. Back of the photograph inscribed, "Katherine, On your 40th (somewhere before mine). Love, Jennifer".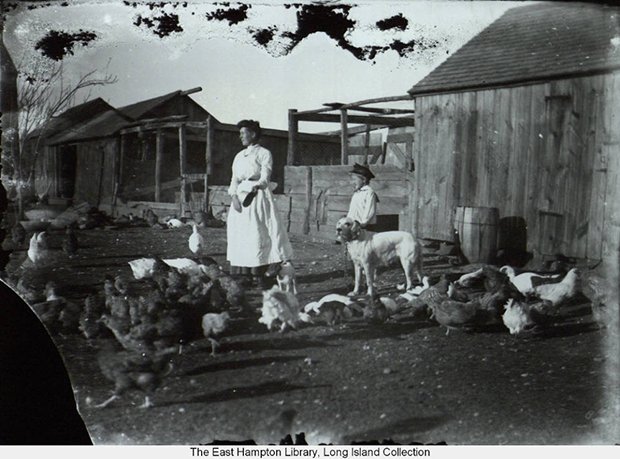 Photo: Amagansett Historical Association. East Hampton Library, Long Island Collection.
The description accompanying this photo in the collection of the West Hempstead Public Library and West Hempstead Historical Society says: Black and white photo of Edwin C. Duryea standing in horse-drawn wagon. Duryea Farm was located on Hempstead Avenue and Chestnut Street.
Duryea farmland extended from Chestnut Street to the point formed at the intersection of Woodfield Road and Hempstead Avenue. Duryea worked from 3 a.m. until 10 p.m. carrying goods to market along the wooden planks of Hempstead Jamaica Turnpike.
Toll to Jamaica was 18 cents and an additional 14 cents to East New York. Duryea "built" three schools and a fire department in West Hempstead. In 1887, he returned with his farm wagon from Jamaica loaded with office furniture for the new Hempstead Bank.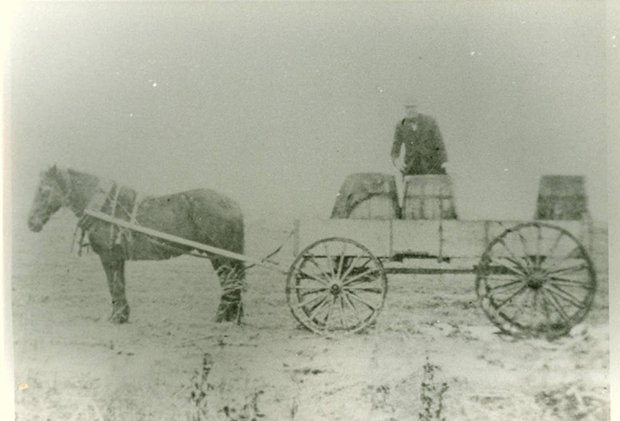 Photo: West Hempstead Historical Society.
In the late 1880s, a few farmers in Eastport began raising Pekin ducks commercially on local streams and uplands. By 1900, William H. Pye was producing 36,000 ducks annually as the largest duck grower in the area. By 1915, Eastport was known as the center of the thriving duck industry on Long Island and restaurants throughout the world were serving "Long Island Duckling." Click here to read Crazy Facts About Long Island Duck Farming.
Courtesy of the Westhampton Beach Historical Society.
Escaping the political upheaval in their homeland, Martin and Anna Wesnofske travelled from Poland to the United States in the 1870s. The German-speaking Wesnofskes settled in what is now the Queens/Nassau border on the Hempstead Plains and bought their first farm in 1892 where they raised seven children. Their kids migrated eastward, bringing their farming traditions with them. On Long Island if you were a farmer, chances are you were growing potatoes. (By the 1940s up to 80% of all farming on Long Island was dedicated to potatoes.) For more images and history about potato farming on Long Island click here.
Old County Road, Hicksville, Nassau County, NY. Martin and Anna Wesnofske's oldest son, John, and his Speedwell truck (Sept 15, 1915). Loading the Speedwell for market with produce from the mule drawn field wagon. License plate is 1914. John was an early user of truck transport to market. In the picture you see John's oldest son, Joseph, and and farm hand Bill Gordon loading produce for market at his Hicksville farm. The farm was located at today's intersection of Old County Road and the east side of today's Wantagh State Parkway.
Photo: Courtesy of Ed Wesnofske.
Picking Potatoes (1919). By 1919 mechanized digging drawn by tractors had arrived but picking potatoes and placing them in burlap sacks in the fields was still hand labor. Notice steel wheels with large cleats for traction in fields. The youngest five of the ten John Wesnofske children are picking.
Photo: Courtesy of Ed Wesnofske.
(Circa 1948). Grandson Remi Wesnofske's farm in Melville, N.Y. A Boggs constructed wooden loader, an early mechanical assist in removing the need for human effort to elevate bagged material of both raw planting components and finished potato produce bags onto trucks as you see in this photo.
Photo: Courtesy of Ed Wesnofske.