A new breakfast shop and coffee bar opened in Patchogue village in late August, taking over the spot that used to be the Country Kitchen restaurant. The new hot spot is Rise & Grind Kitchen and Coffee Bar.
Acting as both a restaurant and coffee bar, the kitchen stays open until 3pm on weekends and the coffee bar serves until 7pm.
"When the kitchen is open the coffee bar serves as grab and go and the dining room serves the kitchen," the owners posted on Facebook. "When the kitchen is closed, the dining room serves as a cafe for the coffee bar. 8 glass separated booths (COVID-19 compliant), multiple distanced tables w banquettes, 50 distanced patio seats; free WiFi; fantastic coffee."
Photo: Rise & Grind Facebook page.
The first weekend the owners posted on Facebook that they served over 800 customers.
A menu isn't available online yet but the Facebook and Instagram pics look delicious.
Reviews on Yelp have been mostly positive.
"Went for an impromptu breakfast the morning of their Grand Opening," wrote Amanda S., from Patchogue. "The owner, Philip took over the old Country Kitchen location, he gave us a tour of the new place and showed us some of the before shots."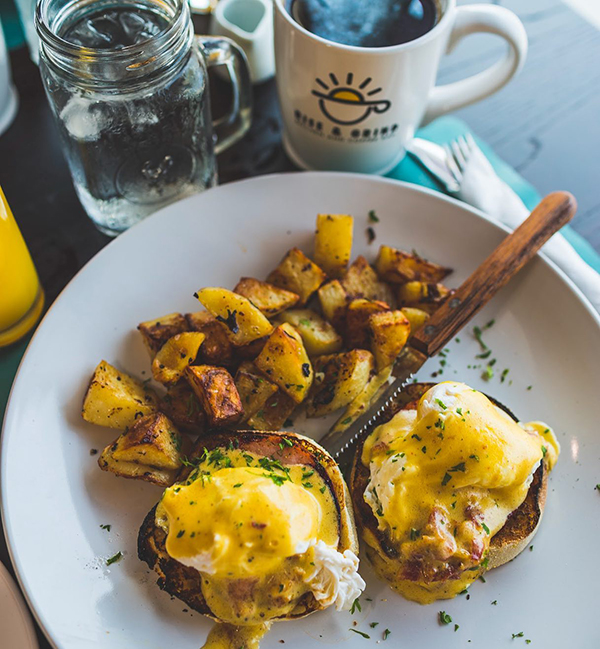 Photo: Rise & Grind Facebook page.
She said that the owner kept some of the original signage from Country Kitchen.
"Even bigger kudos to him for keeping on some of the staff from the former business as well, our waitress Shirley was so sweet," Amanda wrote. "The interior is clean and comfortable with plenty of light. Most importantly, the food and coffee we're absolutely out of this world. I had the Island French Toast which was absolutely to die for!"
Location: 240 E. Main Street Patchogue, (631) 730-8000.