When it comes to standing out in a crowded marketplace, any business – small, large, or anywhere in-between – can use every edge that they can get, and embracing change and the growing role of technology and internet usage in day-to-day life can make all the difference between failure and success.
Identity Digital
, based out of East Northport/Commack, specializes in cutting-edge, high-tech streaming and video production services for all manner of clientele. Owner and creative director Evangeline J. Knell boasts many years of national-level experience in the field of television production and design, having worked for 16 years for noted cable news channel CNN and a stint at CBS Sports, as well as working on live interactive broadcast graphics for AMC's "The Talking Dead."
"There's nothing like seeing your work in front of 4-and-a-half million people…that's great, but innovation in video production doesn't just have to be on a national level," she said. "There's also a local need for that sort of thing right here on Long Island, and technology is to the point that you don't need a 40-foot production trailer to haul it all around anymore. My gear is advanced enough that I can throw it into my Honda CRV and do it myself, but still have a high, broadcast-quality production value to it. And because it's just me doing it, that can bring the cost down."
For those looking to get their feet wet, Identity Digital's introductory offering for businesses and prospects is a "Video Business Card" which essentially serves as a "give me your best elevator pitch on camera." For this, Knell works with clients directly on messaging in a very concise way, offering this service for a flat fee of $495.
Knell initially began experimenting with freelance work on the side in 2011, but eventually decided to strike out on her own in 2019 and transition her side-gig into a full-time endeavor. She made the decision to dub her company "Identity Digital" to both reflect both her mission of helping clients establish their own individual identities, as well as her own identity as part of the transgender community.
"It's about how we're all in this together," she said. "It's as much the company's and client's identity as well as mine. Cut to the chase, tell me what you can do, and let's present it in an authentic way."
Initially, there were some minor growing pains, as Knell was coming from the creative, behind-the-scenes aspect of video production; now her own boss, she had to learn how to essentially market herself and her skills and find ways to prove to her customers the many benefits of engaging her expert services, especially when it comes to small business owners who may not realize the value of video these days.
"I'm well-rounded enough that I can do pretty much anything a client would need," she said. "I have over 30 years of video production experience, but I'm also a designer and I think things like fonts and graphics are just as important as knowing what video format to use for a project. And I love, love, love working with entrepreneurs, since I'm one myself, and I've really learned how to convey the value of what I can offer to them, and how it can help them stand out."
Ever forward-thinking, Knell maintains that live video streaming is the hot thing now for business owners looking to make a personal connection with their client base. Adding a human touch to their interactions by promoting a day and time for their live stream – during which a business owner can answer questions and interact with prospective customers – is currently one of the most effective means of self-promotion going.
"I think, especially for social media types, streaming is really the differentiator," she said. "After all, aren't you tired of watching all these videos on social media with people telling you that they're the greatest person in the world? What happened to authenticity? Just being you and telling people what services you offer? People stop and watch 'live' things because there's a believability factor. It's not a faceless, nameless thing…it's just you representing your business. People can resonate with that."
And in that endeavor, Knell can assist in making every aspect of the streaming process both look and flow with a consummate, professional sheen, making the entire experience seamless and immersive…even for business owners who may be apprehensive about appearing on-camera.
"A lot of people think, 'oh, I would never do that.' But for me, what I do isn't just the production of the video…I make it a fun and interesting experience for people," she said. "It's all about making people comfortable in front of the camera, so we rehearse and go over things to the point where the camera just melts away."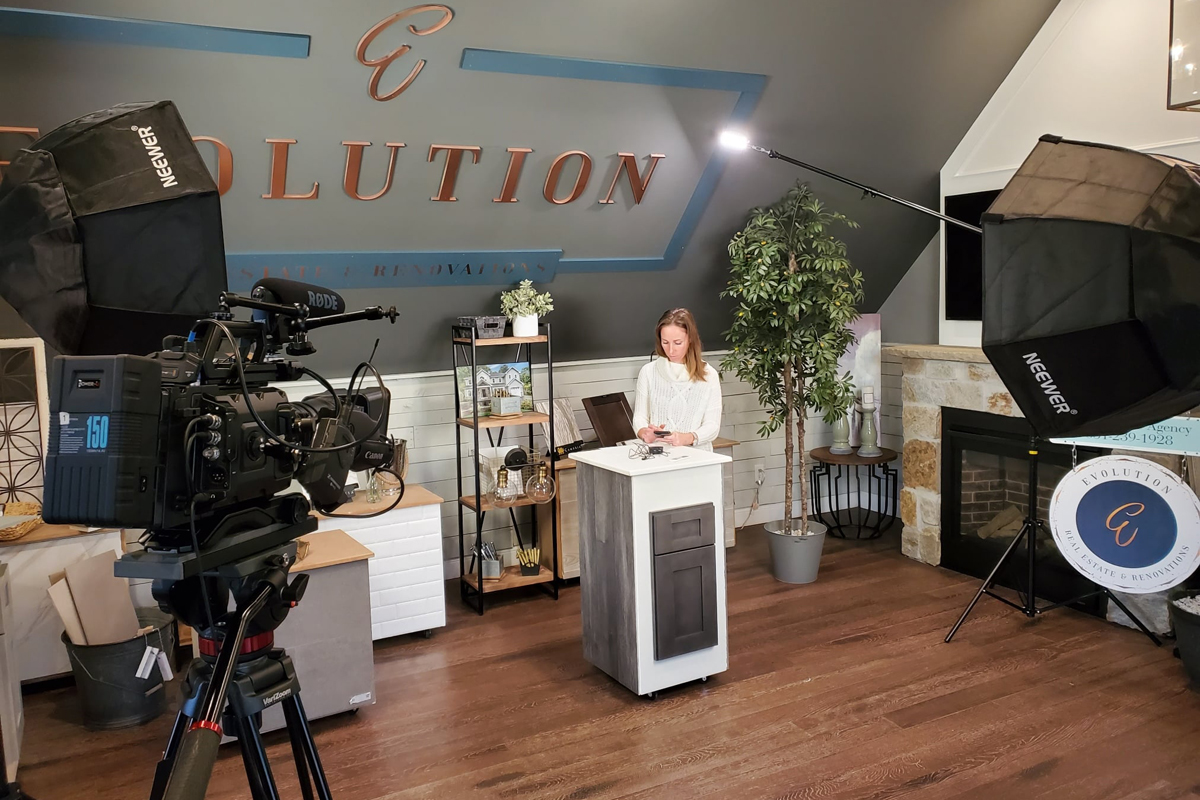 However, that is far from the extent of Identity Digital's services; Knell can also film, edit, and produce high-quality videos – all with professionally-done custom graphics – for either television or web usage, ranging from commercials, promotional shorts, and real estate walkthroughs to documentaries, educational pieces, sporting events, and anything else that may be needed. And Knell's diverse skillset, years of high-level experience, and access to top-notch equipment ensures that whatever you need, it will be "Netflix quality" for an affordable price.
Currently, Identity Digital is a mobile operation; when hired, Knell will load up her vehicle with her professional gear and go wherever she is needed for a job. Currently, she services the Long Island region, but for the right job she is more than willing to travel into Manhattan or wherever else she may be needed. But as for the future – as Identity Digital evolves and grows – Knell looks forward to having a staff and her own in-house production studio as well.
But, at the end of the day, Knell noted that it's important for her to convey to people that what she ultimately offers is "video and live streaming for the camera-shy."
"I want people to know that it doesn't have to be an awkward, daunting experience," she said. It's just something that, believe it or not, that can really be fun, and that will resonate with audiences and help your company connect with customers."