Long Island, NY - May 18, 2017 - Memorial Day Weekend is the official kick-off to the summer season and no one knows how to summer better than Long Island. From picturesque seaside villages to lively boardwalk scenes, Long Island is the ultimate East Coast sun, sand and surf destination. This season, summer like a local with these must-try experiences that highlight the region's pristine beaches, fresh catch and farm-to-table fare, rich history and famed wine country.
Photo Credit: Discover Long Island
LONG ISLAND WINE COUNTRY:
Rated by Wine Enthusiast as one of the 'Top 10 Wine Regions' in the world, Long Island has over 60 vineyards for visitors to experience on its iconic East End. From crisp white varietals to versatile rosés, for more than 40 years Long Island has grown award-winning, high quality wines. Those looking for an upscale experience can head to Bedell Cellars or for a more artisan experience check out Sherwood House Vineyards. There are also single varietal producers like Sparkling Pointe, which produces exclusively sparkling wine.
Photo Credit: Discover Long Island
CALLING ALL SEAFOOD LOVERS: Enjoy some of the best farm-to-table fare and fresh catch seafood in the United States courtesy of Long Island's incredible farmlands and bountiful surrounding waters. From raw bars to lobster rolls, West Sayville's Seafood Festival is serving up an array of locally sourced seafood this August 26th & 27th. Held at the Long Island Maritime Museum revelers can enjoy live music and local fare as well as games and entertainment. Blue Island Oyster Company and Claws Seafood Market will have favorites at the ready and land lovers can enjoy a variety of non-fish options as well.
Photo Credit: Discover Long Island
SURF'S UP! With pop-ups in Long Beach, Atlantic Beach, Nickerson Beach, Rockaway Beach and Jones Beach, the crew at Skudin Surf make riding waves easy to learn. A heritage of lifeguards, swimmers, and surfing champions, this brood knows their way around the water and are dedicated to making your summer dream come true. Starting April 1st, summer camps and lessons are available 7 days a week for children and adults.
Photo Credit: Discover Long Island
OFF TO THE RACES: The final and longest leg of the Triple Crown will take place at Belmont Raceway this June. Dubbed the 'Run for the Carnations,' the premiere horse-racing event of the season will have races kicking off on June 8th and the 149th running of the Belmont Stakes on June 10th. Not-to-be-missed, three-day festival passes are currently available with grandstand access and views of the paddock.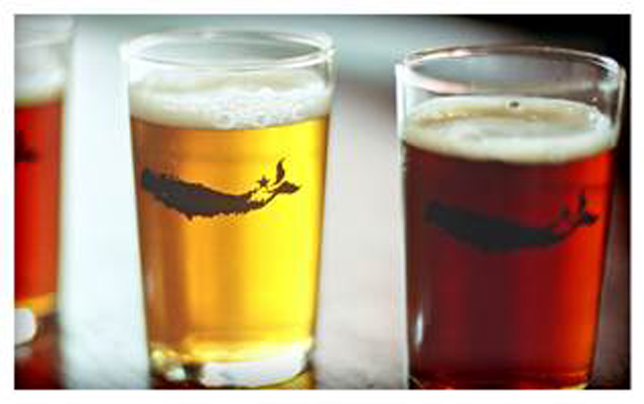 Photo Credit: Discover Long Island
DRINK LOCAL: Long Island is experiencing a craft beer renaissance with small-scale breweries popping up across the region. A few stand out micro-breweries not to miss: With over a dozen beers on tap daily, Great South Bay Brewery in Bay Shore is a mecca for local brews. Favorites include Blood Orange and Snaggletooth. Greenport Harbor Brewing has two brewing locations to choose from – its original on Carpenter Street in Greenport and a bottling plant/tasting room in Peconic. New this is season is Summer Ale in a can – the perfect summer party accessory. Since 1998, Blue Point in Patchogue has been setting the standard for beer in New York and beyond. It's legacy, Toasted Lager, is a smooth amber lager that pairs perfectly with fresh seafood and a view of the water.
Photo Credit: Discover Long Island
PRIDE ON THE BEACH: This June 9th-11th, Long Island Pride moves to Long Beach for the annual Pride on the Beach event. The three-day destination weekend will include numerous exciting events, a pride market and fair, a concert on the beach and the 27th Long Island Pride Parade.
Photo Credit: Discover Long Island
CELEBRATE INDEPENDENCE DAY: If you're looking for the ultimate spot to view fireworks by land or sea this summer, then Long Island is the place to be. Whether on the beach, in a boat or on a grassy knoll in one of our many parks, Long Island offers a one-of-a-kind red, white and blue experience that your family won't forget. Visit www.discoverlongisland.com for a listing of 2017 Independence Day Firework Shows.
Photo Credit: Discover Long Island
HISTORIC BEACONS: Long Island invites travelers to visit our shining beacons in honor of National Lighthouse Day on Monday, August 7th. Many are open to the public seasonally; from Montauk Point to Fire Island and beyond, locals and visitors can explore 19 lighthouses across the region.
Photo Credit: Discover Long Island
ONE BY LAND, TWO BY SEA: General George Washington's Setauket Spy Ring comes to life with a "Tri-Spy" outdoor adventure. Historian Margo Arceri guides cyclists, walkers and kayakers through actual trails where the British and Patriots once roamed during the Revolutionary War on Long Island. Follow in the footsteps of the famous men and women of the Culper Spy Ring who helped change the tide of the American Revolutionary War and inspired the popular AMC series TURN. September 16th marks the 2nd annual Culper Spy Day, a festival celebrating the historic impact of Long Island's famed spies.
Photo Credit: Discover Long Island
LONG ISLAND'S PREMIERE VENUE RETURNS: NYCB LIVE's Nassau Veterans Memorial Coliseum recently underwent a $165 million renovation and has reopened to host world-class sports and entertainment that kicked off with an April opening concert from Long Island's own Billy Joel. The venue's 2017 event lineup boasts some of the biggest names in the music and entertainment industries.
Show us how you summer and tag your favorite summer shots on Instagram with #LongIslandSummer. Visit www.discoverlongisland.com to start planning your summer line-up today!
Discover Long Island was established under the name Long Island Convention and Visitors Bureau & Sports Commission in 1979 as the official tourism promotion agency for the destination's travel and tourism industry. The organization contributes to the economic development and quality of life on Long Island by promoting the region as a world-class destination for tourism, meetings and conventions, trade shows, sporting events and related activities. For more information, please call 631-951-3900 or visit www.discoverlongisland.com.