This is one in a series of stories on LongIsland.com about creative Long Islanders and the art they are producing as they are quarantined during the Coronavirus pandemic.
Phillip Zirkuli has adorned his 1992 Mazda Miata with plenty of temporary paint jobs over the years: some inspirational, some funky and others are for art's sake (like his depiction of Vincent van Gogh's iconic Starry Night in flames with the message to "Save Our Art" sprawled on the side.) The matte black paint job on the Miata - that Zirkuli rebuilt himself - makes the perfect canvas for the Baldwin Middle School art teacher.
He finds inspiration for his designs in plenty of places, but of course the most pervasive topic these days is the pandemic, a shared experience of people around the world quarantined, sheltered, and practicing social distancing, a term practically unknown only a few weeks ago.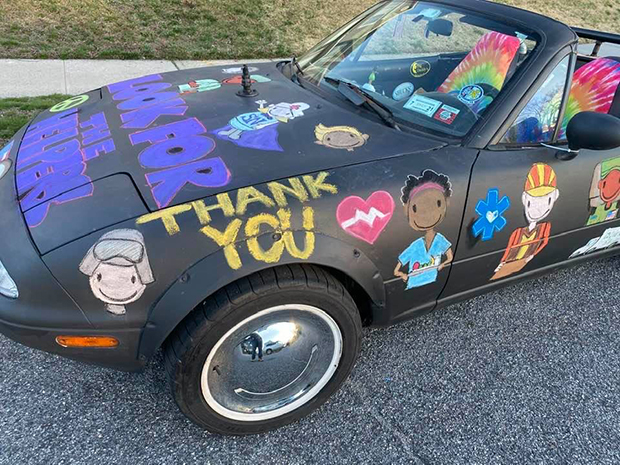 Photo: Courtesy Phillip Zirkuli.
"This particular design was created by my friend and colleague Christopher Fahey," Zirkuli told LongIsland.com in an email interview. "Chris was inspired to create a poster during these troubling times by the Mr. Roger's quote."
Christopher Fahey's poster that inspired the paint job. Photo: Courtesy Phillip Zirkuli.
You might have seen this quote shared on social media, especially during a crisis. In the meme, the beloved children's television host said that his mother responded to scary news by telling him to 'Look for the helpers.'
You can find a full story on the Fred Rogers quote on snopes.com.
"My mother would say to me, 'Look for the helpers. You will always find people who are helping.' To this day, especially in times of disaster, I remember my mother's words, and I am always comforted by realizing that there are still so many helpers — so many caring people in this world," Rogers said.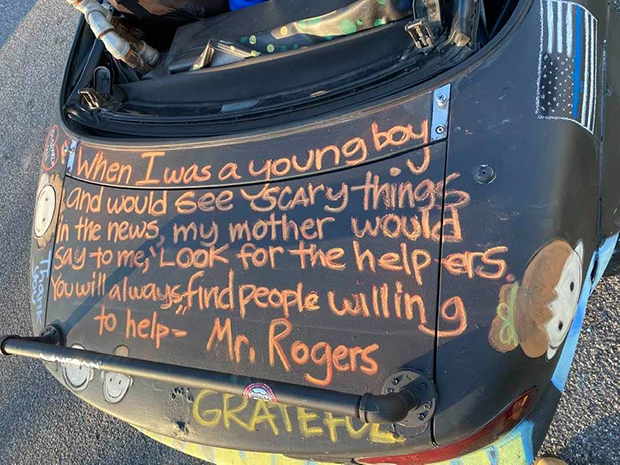 Photo: Courtesy Phillip Zirkuli.
While the helpers we look for these days might be medical professionals on the frontlines, Zirkuli said the project is dedicated to all of the helpers. Amid the fear and confusion, they are the ones who are putting themselves in harm's way every day.
Fahey and Zirkuli spent a Friday afternoon chalking up the car with chalkboard paint from their local Home Depot.
Zirkuli will drive the car around in nice weather when it's painted up and it always turns heads.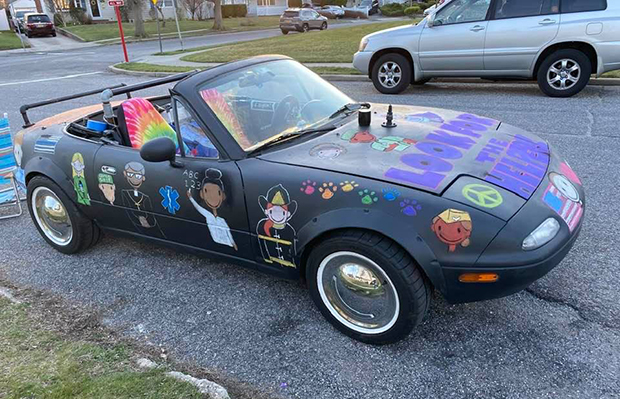 Photo: Courtesy Phillip Zirkuli.
"I get a lot of reactions as I drive it in public," he said.
The artwork is temporary and it washes off eventually.
"A couple of times a year I repaint the whole car," he said. "I drive my art around to advocate for education in the visual arts."