You might have watched the AMC television show TURN: Washington's Spies but did you know how to sort fact from fiction in the show? While it was well-made and enormously entertaining, the show takes some, ahem, liberties with its historical source material. Here we present some crazy facts about the Culper Spy Ring right here on Long Island that was pivotal in winning the Revolutionary War.
Photo: Public Domain.
Setauket Presbyterian Church Cemetery. Photo: Traitor [CC BY-SA 3.0 (https://creativecommons.org/licenses/by-sa/3.0)]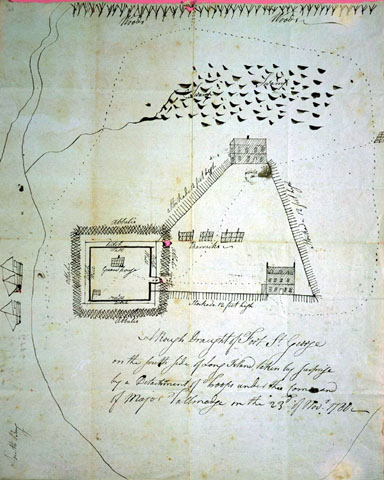 The Manor St. George as sketched by Benjamin Tallmadge during the Revolutionary War. Benjamin Tallmadge? / Public domain
Only surviving portrait of Robert Townsend. Photo: Public Domain.
English: Portrait of Colonel Benjamin Tallmadge, an influential member of the Continental Army during the American Revolutionary War, with his son William Tallmadge. This is a 1790 portrait by American painter Ralph Earl. Public Domain.