Great Ways to Celebrate Father's Day
650 Jericho Turnpike, Syosset
(516) 496-8000
Reservations are now being accepted for Father's Day at Rare650. This leading Long Island steakhouse boasts a chic dining room, floor-to-ceiling wine room, glass conservatory with tropical landscaping, and a menu that combines steakhouse classics with sushi and fresh seafood.
8 Tower Pl, Roslyn
Thyme, located in the village of Roslyn overlooking the Roslyn Duck Pond is hosting a special Father's Day Brunch from 10 a.m. - 1:30 p.m. and a Father's Day prix fixe dinner from 3:30 - 8 p.m. Thyme works closely with local farms and purveyors seasonally and menus embrace the essence of the seasons in both flavor and color.
​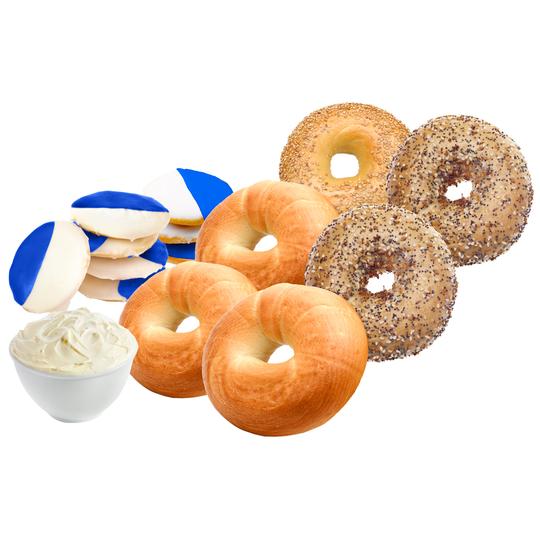 Photo courtesy of New York Bagel of the Month Club
New York Bagel of the Month Father's Day Package
Dad missing his NY bagels? Send him an authentic New York bagel breakfast from the New York Bagel of the Month Club. No matter where he is around the country, you can surprise him on his special day with a one-time breakfast package that includes fresh hand-rolled New York bagels, homemade blue and white cookies, and cream cheese. They ship nationwide for free!
4 Old Jericho Turnpike, Jericho
(516) 605-1400
Treat a special dad in your life to dinner at Opus Steakhouse. This beautiful Jericho restaurant has dramatic dining spaces, soaring architectural ceilings, and gorgeous views of lush landscaped grounds and plush outdoor terraces.
The menu features steakhouse classics such as Prime, Dry-Aged Porterhouse, as well as Japanese wagyu petite strip steak and veal chops prepared in the open kitchen. Opus Steakhouse also has a chic sushi bar serving fresh sushi grade sashimi and impressive signature rolls hand-crafted by the restaurant's acclaimed sushi chef.
1080 Corporate Dr, Westbury
(516) 693-5400
Bring any wine-loving dads to a Father's Day meal at City Cellar in Westbury. City Cellar is a Modern American Restaurant featuring a large, sophisticated dining room, and a towering floor-to-ceiling wine cellar showcasing fine wines from around the world..
City Cellar's menu includes many multi-ethnic steak, seafood, and poultry dishes, as well as house-made desserts. The attentive staff at City Cellar can help pair together your dinner with a bottle of wine.