LI's Adorable Adoptable Pets: Dynamic Duo Tess and Chloe Here to Brighten Your Day
Tess and Chloe are adorable14 week old tabby sisters who are looking to be adopted together into a loving family.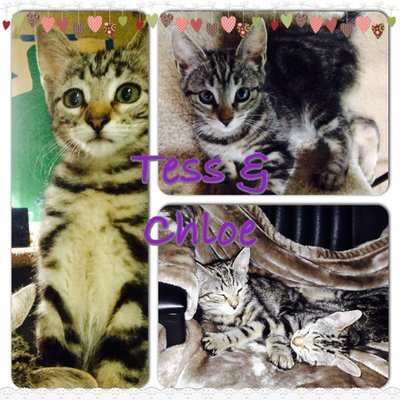 If there's one thing that is better than a kitten, it's two kittens! Tess and Chloe are kittens from the same litter who have thoroughly bonded to one another and have been taken in by A Home Fur Now Rescue, which is actively trying to find them a loving home together. Though they love one another and their foster mom, their time is running out – their foster mom must give them up because of the medical issues of another pet that she is caring for.
Tess and Chloe are 14 week old tabby kittens who have distinct personalities and are beyond adorable. Tess is the more rambunctious of the two, while Chloe is more reserved and prefers to watch what is going on and take it all in. They cry when they cannot find one another, and they love to sleep side by side and bat around toys together. Tess and Chloe are both social, and enjoy being with kids and other cats.
These two sweethearts are both spayed, litter trained, and up-to-date with their routine vaccinations.
If you are interested in adopting Tess and Chloe, contact A Home Fur Now via email or through their Facebook page here.
A Home Fur Now is a not-for-profit rescue that relies solely on foster homes to care for their animals. Their mission is to save the strays, throwaways, and shelter animals and to improve their lives through medical care, spaying and neutering, and finding families that would be compatible with these pets.
Be Sure to Check Back Each Thursday for Our Newest Adoptable Pet of the Week!
Work with a Shelter? Interested in Featuring a Furry Friend? Email Us for More Info!
Photos
Join Our Weekly Newsletter

Sign up for a free weekly newsletter covering things to do, hottest local headlines, and everything Long Island! Read more here or enter your email to signup.