Melville, NY - September 29, 2017 - "Overflowing with Opportunities for Age 50+" is the slogan of the Over 50 Fair, and this year the event was overflowing with attendees. Over 700 Baby Boomers, seniors and those a bit younger enjoyed popular exhibitors from past years and many new additions. The Fair is recognized as Long Island's largest "Over 50" expo.
This year's event included several reality TV favorites. Kimberly Sherbach of Wantagh was one of the bachelorettes on the 19th edition of ABC's hit romance reality series, "The Bachelor," in 2015. She discussed what it was like to be on the TV show and also taught a yoga class.
The INN ran a charity raffle which raised over $400 plus food collection. Photo Credit: Renaissance Studio Ltd.
Chef Maria Petridis of Maria's Mediterranean Seafood & Grill in Bayside, did a Greek cooking demo that was entertaining and informative. Chef Maria was crowned a "Chopped Champion" on Food Network's Chopped in December.
Chef Sophie Bravo of Food Network's Chopped Junior taught a rainbow meringue class as well as a cake decorating with fondant class. Sophie is a delightful 11 year old.
In addition, Bobby Goldman, author of the current off-Broadway show Curvy Widow spoke to an interested crowd.
7 in Heaven Singles Events coordinated our Singles Lounge.

Photo Credit:

Renaissance Studio Ltd.
Others classes included reiki, astrology, hot flashes, trusts, reinventing yourself, knitting, a country line dancing class, and a dance performance by the Seasoned Steppers, a group of women who are age 66+ and are former Ms. New York Senior America pageant contestants.
The Singles Lounge, facilitated by 7 in Heaven Singles Events,was a big hit with women as well as men.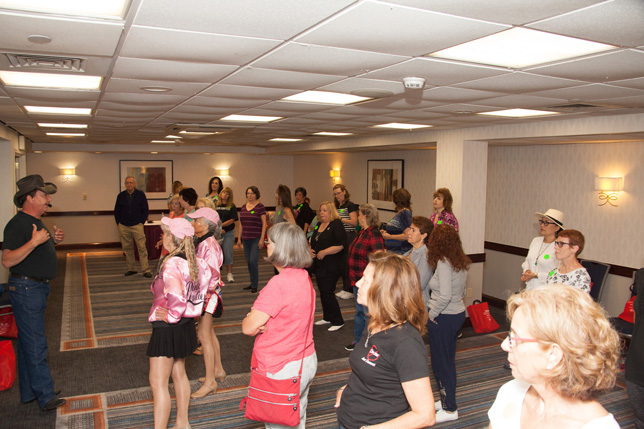 Lyndy of LyndysCountry.com taught a Country Line Dancing class.

Photo Credit:

Renaissance Studio Ltd.
Noteworthy Music played live jazz and acoustic music throughout the day. This new addition to the Over 50 Fair was well received.
Repeat attendee Tony Miller of Sayville reported "The Over 50 Fair has become an annual tradition for my wife and me; it's an event we honestly look forward to. This year's fair was no exception, and truly the best one yet."
Noteworthy Band played acoustic and jazz music all day to entertain.

Photo Credit:

Renaissance Studio Ltd.
The vendors connected with attendees, including those who attend year after year. Repeat exhibitor Joe Satriano of the Susan Satriano Foundation wrote "The Over 50 Fair is a grand expo of talented people and amazing products on display for sale. There is something for everyone to browse, enjoy talented performers and attend educational classes during the day." New exhibitor Sarah Gualtieri of MD Logic gushed "Thank you for putting on such a wonderful event. This was the first show that we participated in for our brand, and we're very happy that we chose the Over 50 Fair as our debut."
Sponsors for this year's Fair wereNorthwell Health, TLC Companions and Supply, 50 Plus Lifestyles, Long Island McDonalds, LongIsland.com, and 516Ads.com.
Kimberly Sherbach of ABC TV's The Bachelor taught a yoga class.

Photo Credit: Barbara Kaplan
The Interfaith Nutrition Network (The INN), a local non-profit organization that provides aid to Long Island's needy, collected $400 plus donated food.
Visitors to the Over 50 Fair always enjoy meeting senior beauty queens. This year, several were in attendance, including Lee Ann Brill; Ms. New York Senior America 2017;C.J. Marie, Ms. New York Senior America 2015; Jane Rubinstein, Ms. New York Senior America 2014; Virginia Werner, Ms. New York Senior America 2013, Elisabeth Zamarelli, Ph.D., Elite New York American Beauty 2015; Marleen Schuss, New York Senior America State Administrator; and Claire Millman, New York Senior America Communications Director.
For information on the Over 50 Fair, visit their website at www.Over50Fair.com. For answers to questions about this expo and others produced by Specialty Connections, call Barbara Kaplan at 516-621-1446 or go to www.SpecialtyConnections.com.