St. James, NY - April 26, 2017 - The Knox School is pleased to celebrate the accomplishments of our Middle School Equestrian Team who ranked in the top 22 out of 657 national teams and competed for the first time as a team at Nationals in Lexington, Virginia, April 21-23, 2017. Middle School rider, Jessica Guginsky competed as an Individual Rider, placing fourth overall. She was joined by Middle School teammates Emily Lonegro and Grace Hayden for the Team competitions, where Emily received an eighth place in her Team Class. On our way to qualifying for Nationals our Middle School team also placed second out of 13 teams at Regionals on March 5-6, 2017 and third place out of 17 teams at Zones in Buffalo, New York on March 24-26 2017.Upper school riders Nicole Cahill, Mackenzie Jorgensen, Annabel Shewan, Victoria Voelker, Julia Russo and Riley Hovsepian placed in their classes at Regionals as well.
Knox IEA Equestrian Team at Nationals in Lexington, Virginia, April 21-23, 2017. From left to right: Coach Jennifer Christensen, Coach Debbie Moore, Emily Lonegro, Grace Hayden, Jessica Guginsky and Coach Katelyn Trzcinski. Pgoto Credit: The Knox School
In addition, two Knox School Teams were sent to the Junior Olympics in
Melville
, New York on April 14, 2017, winning seven first-place awards, several second-place awards, several fourth place awards and a sixth place award and five perpetual trophies. The first team was comprised of students Maya Tintweiss, Isabella Benrubi and Elizaveta Vostokova, riding under the team name Hogwarts, and the second team was comprised of students Victoria Voelker, Mackenzie Jorgensen and Julia Russo., riding under the team name Hundred Acre Wood. The "Hundred Acre Wood" team was the top team in their division. Way to go, Knox!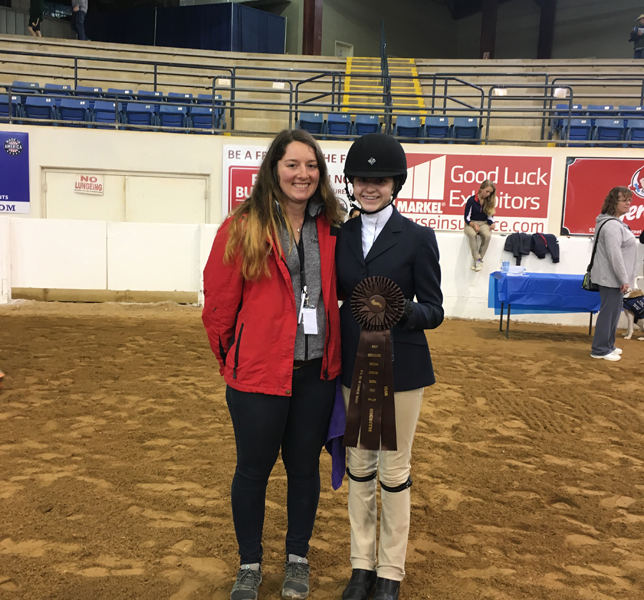 Coach Katelyn Trzcinski with eighth place winner Emily Lonegro at Nationals in Lexington, Virginia, April 21-23, 2017. Photo Credit: The Knox School
The complete Knox IEA Equestrian Team consists of the following students: Upper School- Nicole Cahill, Annabel Shewan, Mackenzie Jorgensen, Hannah Egitto,Jaime Rishi,Julia Russo,Riley Hovsepian, Charlese Profeta,Nicolette Lombardi,Victoria Voelker,Heather Feigenbaum, Frances Clever and Elizaveta Vostokova, and Middle School- Jessica Guginsky, Abigail Reavis, Grace Hayden, Andrea Infranco, Meg Major, Rachel Ricci, Sofia Deleon and Emily Lonegro. Additional Knox riders include: KarianaSchman, Morgan DeBono, Hannah Bogart, Sydney Maslin, Kyle Persaud, Caroline Rothemich and Christina Ziccard.
For additional information about The Knox School's IEA team, please contact Deborah Moore at (631) 974-0794 or email: dmoore@knoxschool.org.
"It is extremely rewarding to see these rising athletes achieve such noteworthy feats. As a coach, I am beaming with pride for our team!" - Debbie Moore, IEA Coach and Equestrian Director at The Knox School.
About The Knox School: The Knox School is a 501c3 nonprofit institution whose mission is to provide the opportunity for capable students to excel within a liberal arts program infused with artistic and athletic pursuits, in preparation for higher education at selective colleges and universities. Our philosophy is to provide a diverse student body with a traditional, structured, and familial atmosphere that fosters academic, intellectual, and character development while celebrating individual strengths and talent. Rooted in the six core principles of integrity, kindness, courage, respect, responsibility, and scholarship, the Knox School aims to inspire in each student a love of learning and the desire to continually develop the skills necessary to lead happy, confident, and successful lives in a complex and changing world.