More than 20 nurses from SUNY Upstate Medical University heard cheering and saw welcome signs as they arrived on Long Island on Thursday to help staff-up Stony Brook University Hospital (SBUH) with additional medical workers. They volunteered to work at SBUH, to help treat patients associated with the coronavirus pandemic, according to a statement from the hospital.
The nurses will begin working today to assist with the 300 hospital beds - including 180 additional ICU beds - added to treat coronavirus patients at SBUH.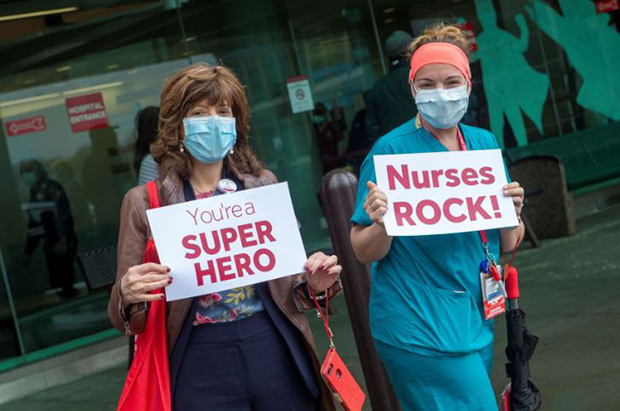 Photo: Stony Brook University Hospital.
The hospital reported that it is treating more than 300 patients right now who have tested positive for the virus. By April 5, more than 775 patients had been successfully treated and discharged from SBUH since the pandemic began.
"We are so grateful for the assistance from our sister hospital in the State University of New York (SUNY) system," said Michael Bernstein, PhD, Interim President of Stony Brook University.
There are three hospitals/healthcare systems in the SUNY system: Upstate Medical University in Syracuse, Downstate Health Sciences University in Brooklyn, and Stony Brook Medicine.
Recently, Long Island was identified as a "hotspot" for the pandemic by New York State Governor Andrew M. Cuomo, as the growth in the total volume of positive patients has shifted from New York City to Long Island.
Watch staff at SBUH give the Upstate nurses a hero's welcome in the video below.
In an interview shared by the hospital, Carolyn Santora, MS, RN, Chief of Regulatory Affairs and Interim Chief Nursing Officer at Stony Brook Medicine expressed her thanks that she and the staff felt for the nurses who traveled to Long Island to help.
"It's so hard to express enough how much gratitude we have to these guys to show their support," said Santora. "To show their dedication to this mission too. To understand what we're going through and support us through it."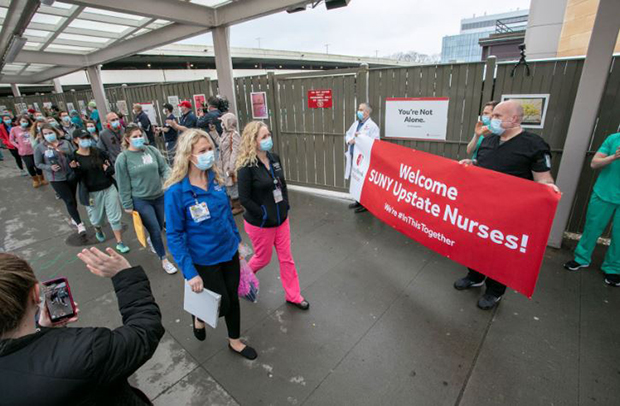 Photo: Stony Brook University Hospital.
She also said that the hospital staff is working hard despite the challenges.
"I can't say enough for the nursing staff, the physicians, the respiratory therapists, all the support staff that walk in here every day," she said. "They come in, they do their job, they drag themselves home. Some of them are sleeping apart from their families because they're worried about them. But they come because this is their mission and this is their dedication and they're doing a fabulous job."