Smokin Al's BBQ
Long Islanders can get classic barbecue bites on the Main Concourse at Smokin Al's BBQ. The Massapequa Park eatery's outpost serves their slow-cooked pork and brisket seasoned with their signature spices and sauces. All the meat is smoked at the restaurant and assembled to order.
GreeKrave
Craving Greek? Then head to Greekrave Express. This outpost of the Deer Park casual fast eatery serves up Greek classics like their lamb and beef gyros filled with lettuce, tomato and tzatziki sauce on pita bread to signatures like their Loaded Pita Chips (with Greek queso) and Greek dumplings with dipping sauce.

Cabo
Focusing on local and fresh ingredients, Cabo's seasonal menu at the Coliseum features tasty tacos and cheesy quesadillas. One dish that is a favorite among visitors is the Pollo Al Pastor Tacos, filled with marinated chicken, avocado, and house made salsa verde. Their taco bowl is an option for vegetarian fans, which is made up of fresh greens topped with corn, salsa, beans and guacamole in a crispy tortilla bowl.
Umberto's Pizza
Umberto's Pizza is the only food option that has table seating and an outdoor beer garden, which serves a selection of locally brewed beers and their classic slices known around the island.
Grilled by PFD
For those craving a juicy burger, stop by the takeout window of Grilled by PFD on the Main Concourse. The family owned Port Washington butcher crafted their Signature Coliseum Burger, which pays homage to a traditional New York burger. This delicious handheld is topped with lettuce, tomato, melted cheddar and their signature 24 Sauce, which is named after the Hempstead Turnpike.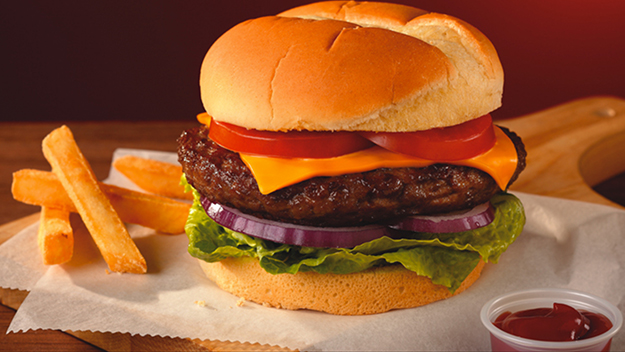 Nathan's Famous
A traditional food of concerts and sporting events finds its way back to the Coliseum. Nathan's Famous, a staple on the Coney Island boardwalk, is the official hot dog and French fries of the venue. You can't go wrong with this venue favorite.