In 1998, Roman and Eliza Valdes opened The Long Island Puppet Theater, a safe and fun environment for people of all ages to come and enjoy the history and whimsical story telling abilities of puppetry from around the world, and since then it has become one of Long Island's best hidden gems. From the time you pull up to the tent like building, a stream of excitement overcomes you. But, as you open the doors the enchantment begins for all who enter. The theatre's main room is filled with whimsical decorations and beautiful decor hanging from the ceiling making the space extremely charming and magical.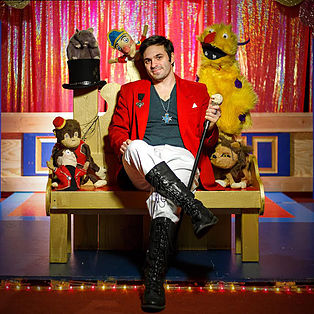 Before the scheduled performance begins, Master Puppeteer and now owner Anthony Labriola, engages his audience young and old as he introduces you to the puppets that reside in his theater. Anthony's passion and love for what he does shines through in all that he does dating back to when he was a young boy working for the theatre in 2005 after seeing his very first show in '98.
The theatre offers many different features such as daily shows like Alice's Adventures in Wonderland and Peter Pan. In addition to their daily shows, the theatre also hosts parties for special occasions, including a Princess and Pirate parties, Rock Star parties, Super Hero parties, and a classic Tea Party. Parents can even create a unique celebration for their children from an exclusive puppet show to party favors, face painting and much more. In addition, children can attend summer camps at the theatre for schools, scouts, and other kid-friendly organizations. For more information on the theater's camps visit here. Daily puppet shows are offered every Tuesday through Sunday with showings at 1:30 p.m. and 3:30 p.m. Tickets are $15 if reserved the day of and $13 if reserved 24 hours in advance.