Heartbreaking images of an orca pod desperately trying to get a breath in a small break in an ice sheet about the size of a pickup truck have gone viral as locals call for help to free the whales after Canadian government officials denied requests to bring icebreakers to the site. The officials said the whales were too far away.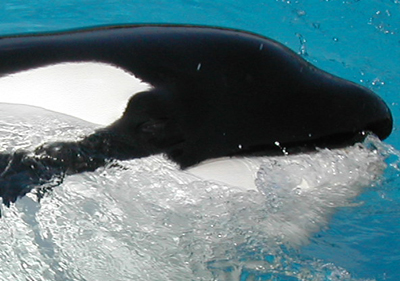 The residents of Inukjuak, a small community in the northern region of Quebec, about 900 miles north of Montreal, have travelled over an hour by snowmobile to witness the whales alternately taking turns to jump out of the narrow break in the ice to take a breath.
Joe Gaydos, a director and chief scientist at the SeaDoc Society in Washington told ABC News that the whales' "spy-hopping" behavior is an attempt to find additional ice breaks where the pod can surface.
The whales were first discovered by a hunter on Tuesday who saw the unusual sight of the struggling whales emerging from the small hole on the eastern shore of Hudson Bay.
Quebec's Department of Fisheries and Oceans has reported that the nearest crew with the appropriate machinery is too far away to assist the whales. Experts are en route Thursday to see if there is anything to be done for the whales.
Officials believe that the whales initially travelled north during the recent spat of warm weather, and became trapped as temperatures plummeted.
Update (2:45 PM):
A shift in winds pushed the floating ice that had trapped the whales further off shore, opening up water and allowing the pod to escape, the Toronto Star reported. Before the whales disappeared, the local members of the Inukjuak community heroically cut and removed blocks of ice by hand to expand the narrow opening through which the whales were surfacing, lacking the high tech machinery that could have released the whales earlier. The whales had been trapped in the ice for as long as Tuesday, when they were discovered by a hunter.
Share your thoughts on this article by posting a comment below.