Inundated with flood waters during Hurricane Sandy, the Bay Park Sewage Plant has been left inoperable and many Nassau residents are being told to avoid using tap water and flushing toilets.
With nowhere else to go, it is possible that raw sewage could be backed up into people's homes. In order to avoid this, County Executive Ed Mangano announced discharging the raw sewage into Rockaway Channel.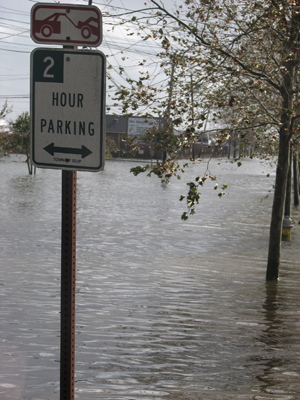 Mangano made the announcement Wednesday afternoon, after issuing a Public Health Emergency announcing the sewage treatment failure. A Conserve Water Order has also been issued, and requires that residents of the Bay Park Sewage District limit laundry loads and toilet flushing and shorten shower times.
The Nassau County Commissioner of Health also issued warnings for county residents, including avoiding any backed-up sewage at the mouth of storm drains and manhole covers. During all cleaning, use soap and follow by disinfecting with a 10 percent bleach solution. Items that cannot be cleaned with a bleach solution should be disposed of. Residents of Long Beach and Mill Neck were told not to use any water due to contamination.
Sandy's force is being named by the county as the culprit of the devastating damage, but the treatment facility has been the subject of long term scrutiny by local residents and media for apparent failures in maintaining public health and safety standards.
Now, however, the county has announced a "comprehensive repair of the facility," which could take up to 12 months. In the short term, the county is working on repairs that will allow partial treatment to resume within the next month.
Share your thoughts on this article by posting a comment below or visiting our Long Island Living discussion forum. Check out our Post-Hurricane Guide for resources in dealing with Sandy's aftermath.