If you're a new company trying to get ahead on the Long Island business scene – or even an established player attempting to break new ground – sister companies TCI Technologies and Fat Guy Media have what it takes to keep you abreast of the latest technology trends while getting the word out about you to prospective clients as well.
TCI Technologies, an Information Technology (IT) company, was founded in 2003 and is currently headquartered at 77 Jericho Turnpike in Mineola; and in 2012, they founded sister company, Fat Guy Media, as a very successful attempt to get into the web development and marketing business. Together, the two entities form a formidable resource for any business looking to succeed on Long Island or beyond.

TCI Technologies workers on the job.
TCI and Fat Guy Media's President, West Hempstead resident Thomas Jacoberger, boasts a Computer Science Degree from Saint John's University, and said that he's always had a hand in the IT field, having worked for companies such as Cablevision and American Home Mortgage. However, the flame of his entrepreneurial spirit was initially fanned while working at a far more humble job.
"I used to work at as a waiter and a bartender at a golf club, and I used to fix everybody's computers on the side because they all knew I had a computer degree," he said.

"I picked up a lot of clients and small business contacts that way, and I just stumbled into starting my own company. It was on May 6th, 2003…I was out with my friends for Cinco de Mayo and I just decided right then and there to do it. That year, I started TCI Technologies."

Fat Guy Media's headquarters is located in Mineola.
TCI Technologies is an IT support company that works with businesses with as many as 500 employees; among the services they offer include tech support, setting up networks, routers, servers, and switches, in addition to just about any other tech-related need a company looking to stay on top of the latest trends of the digital age.
Jacoberger noted that the rapidly-growing client base for TCI consisted mostly of non-profits and small companies - many of whom would approach him on a regular basis for assistance on projects outside the usual scope of TCI's services; mainly, help with designing and marketing their websites. Soon, the demand for marketing services became so great that Jacoberger decided to create a separate brand to address his client's marketing needs - that idea eventually morphed into TCI's sister company, Fat Guy Media, whose name was taken front a very literal source.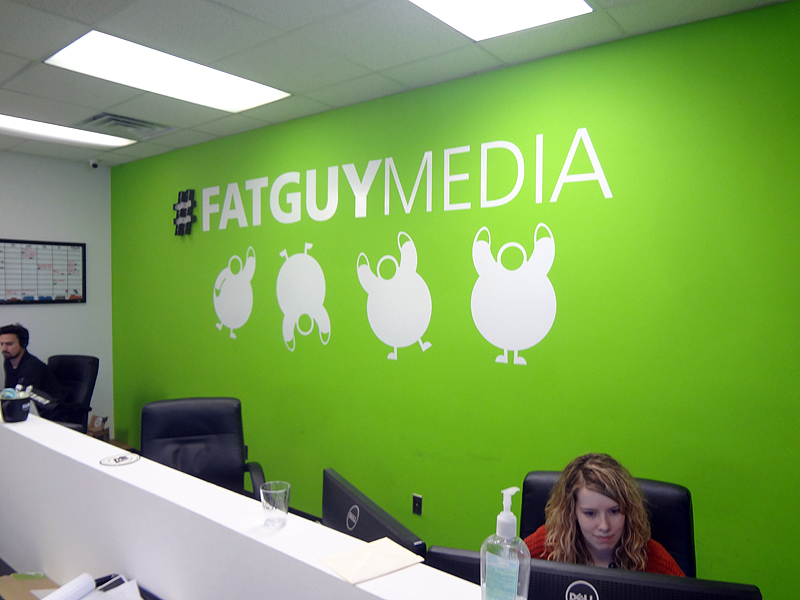 Fat Guy Media was founded in 2012.
"It was started by three fat guys sitting in a room, trying to figure out how to market TCI as a marketing company…of course, I've lost some weight since then," he laughed.

"The thing was, we had TCI clients coming up to us, complaining that they had given $5,000 to some guy who never finished their website, and asking us for help. So, I brought in Aaron Mattson – who I grew up with – and we started up Fat Guy Media and began building websites."
Fat Guy Media is a web developer and marketer whose services include the construction and maintenance of professional-quality websites, search engine optimization, and both online and physical, real-world marketing in the form of billboards, banners, taxi tops, social media branding, and more. Fat Guy works with a variety of small businesses and sporting teams in the Long Island area and beyond, including the New York Cosmos professional soccer team.

TCI Technologies and Fat Guy Media President Thomas Jacoberger.
Aaron Mattson, Fat Guy Media's Creative Director, said that the company was born out a niche need inside of the small business community - they saw a group that was underserved, and set out to give the power back to the little people in Long Island's professional landscape.
"I'm very passionate about design and delivering that to everybody…I think everyone is entitled to it," Mattson said. "I think everyone should have the best guidance and education that they can when they're shopping for services like ours, and that's what we're trying to build here. Instead of just building someone an aesthetically pleasing website, we ask: what's the goal? What are you using the website for? This way, we can use our assets – the website, social media, and all the marketing materials – to further their business. They can see a tangible result; we're making something that serves a function."
But what really sets Fat Guy Media apart, Jacoberger said, is an intimate knowledge of the ins and outs of the Long Island area and – most importantly – how to market anything and everything to its many discerning residents.

A billboard created by Fat Guy Media for the New York Cosmos soccer team, located on Jericho Turnpike in Mineola.
"Most of our clients are Long Island-based…we have some in the city, some in Connecticut, some in North Carolina, but we know Long Island…I can tell you which billboard ad and where to put it, or which bus shelter to put an ad," he said.

"And the online marketing part is great, because people want to market within a certain zip code, and that's fine, but you need to market outside of that area as well…you don't just want to do a 5-mile radius."
Fat Guy Media has a charitable side as well - Jacoberger notes that they offer a ten percent discount to most non-profits. In addition, all pricing for their services is available on their website, ensuring that all expenses a prospective client may incur are laid bare before they ever pick up a phone to strike up a deal.
"The number one people tell us about most web developer/online marketing companies is that they have no idea what the prices are," he said. "Here, you know what everything costs, and you can go throughout the whole entire thing, and it's all clearly spelled out."

TCI Technologies and Fat Guy Media are headquartered in Mineola.
When TCI, and later Fat Guy Media, burst onto the scene, competition for their services on Long Island was relatively thin; now, however, Jacoberger said that there are a lot of up-and-comers vying for the rapidly growing business community in Nassau and Suffolk Counties, and continually honing & expanding their skills, as well as staying savvy are what will keep them at the forefront of the field well into the future.
"We never really end our relationships with clients…we're constantly try to educate them on new things, new ways to upgrade their systems. We don't like to sit on what we have, we make things to be expandable, and we're always looking to the future. We don't get complacent with our clients," he said.

"Plus, we're constantly learning ourselves…we take courses and webinars every week too, we're constantly educating ourselves internally so we're always on the cutting edge, so we can always give our customers that competitive edge in the marketplace."