Ride Along the Beachside: If you've never tried 'fat-biking' on the beach prepare yourself for a unique adventure, because those big wheels will take you wherever you want to go. Rent a bike and take a ferry from Bayshore, Sayville or Patchogue to Fire Island, Long Island's 32-mile-long barrier island, Ride the trails through the dunes or at the ocean shore. When you get tired, unroll a blanket on the ocean beach, take a rest and go for a swim. Spend the night in one of the Fire Island communities, where you'll find charming accommodations and restaurants serving local fare.
Take a Sky Sailing Adventure: Make your way out east and then up up up! Take a trip with the Sky Sailors who can help you build your own aerial adventure. With gliders, tandem parachuting and more you are sure to find something to get that adrenaline pumping. Spend the evening in the Hamptons where you can enjoy the gorgeous ocean scenery from the ground.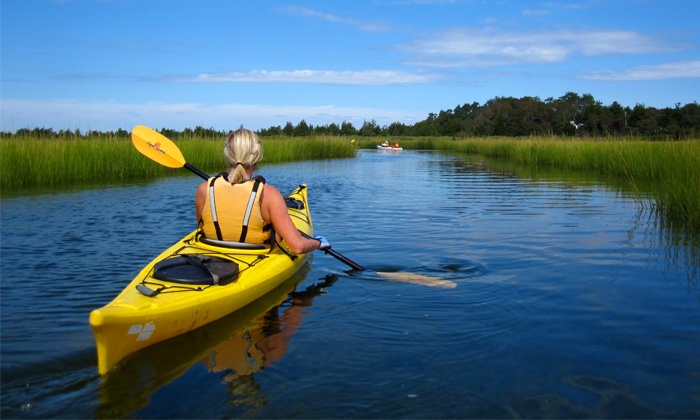 Kayaking the Scenic Shoreline: Kayaking and canoeing on Long Island offers a unique bounty of natural beauty, wildlife, and waterways that range from serene rivers, inlets and harbors to challenging ocean and bay courses. Spend the day kayaking and exploring our scenic shoreline. Set out on a guided kayak tour from Shelter Island or rent your own from one of our many kayak adventure outfitters. Stay overnight in charming accommodations at a harbor front village after dining on the catch of the day, or relax after a day of exercise at an upscale waterfront spa where expert treatments will sooth your tired muscles.
Gone Fishin': If you're looking for true adventure there are few places that can rival the diversity of Long Island. Spend your day at sea as you embark on an ocean fishing adventure! You may choose one of our group boats available out of several different marinas at Montauk or Orient or schedule a private fishing charter with available sea captains. Surrounded by water on all sides, Long Island, NY has over 400 miles of coastline; That adds up to a lot of spectacular spots and a wide variety of ocean fishing experiences.
Ride the Waves: Learn to surf at Montauk while you're out there; or head back west to Gilgo Beach or Long Beach. You'll find group or private lessons, where experts give you some on-shore instruction before taking you out in the waves to get the hang of riding in. If you explore the boardwalk at Long Beach you can also make your way to I.Fly Trapeze where you'll be able to watch professionals swing from rope-to-rope or take a lesson and take on the challenge yourself.