Sarah Anker Sworn in to Third Term as Suffolk County Legislator
Legislator Sarah Anker was sworn into office atthe Thursday, January 2ndOrganizational Meeting of theSuffolk County Legislature.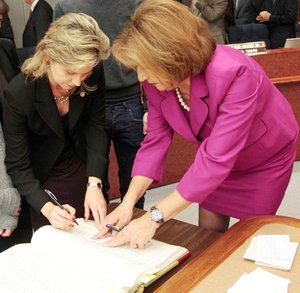 Hauppauge, NY - January 9th, 2014 - Legislator Sarah Anker was sworn into office at the Thursday, January 2nd Organizational Meeting of the Suffolk County Legislature.

"I'm looking forward to continuing the many projects I've facilitated over the past two years including Rails to Trails, helping our young adults find jobs and affordable housing, supporting our seniors, protecting our environment, implementing fiscal responsible measures to get our County out of debt and promoting financial stability through economic growth," said Anker. "It is an honor and privilege to continue to serve the residents of the 6th Legislative District."

Pictured: Sarah Anker pictured with Suffolk County Clerk Judith Pascale signs the official record as Suffolk County Legislator for the Sixth District.
Join Our Weekly Newsletter

Sign up for a free weekly newsletter covering things to do, hottest local headlines, and everything Long Island! Read more here or enter your email to signup.