Woodbury, NY - November 7, 2018 - D&B Engineers and Architects President Steven Fangmann recently accepted the Project of the Year Award from the New York Section of the American Water Works Association (AWWA) recognizing efforts to protect drinking water. The award was for designing and building the first Advanced Oxidation Process (AOP) system for the treatment of the emerging contaminant 1,4 -dioxane in drinking water in New York State.
The team which also included Suffolk County Water Authority, Phillip Ross Industries, and Trojan UV worked together to design the mechanical process piping and structural concrete supports for the UV-hydrogen peroxide AOP system. The full-scale Trojan UV system was designed and implemented to provide treatment for 1,4-dioxane in a 1,200 gpm production well.
Steven A. Fangmann, of President of D&B. Photo Credit: D&B Engineers and Architects.
Exposure to 1, 4-dioxane which is used as a solvent and in other commercial applications, can cause damage to the central nervous system, liver and kidneys, and is a recognized carcinogen.
"The problem of 1, 4-dioxane contamination of drinking water is growing across the nation," commented Steven A. Fangmann P.E., President of D&B Engineers and Architects. "At D&B we are dedicated to working with our public-sector clients and committed to ensuring that all public projects achieve the goal of protecting the public. This Project of the Year Award is a perfect example of collaboration between government and private sector partners to improve and ensure the future quality of drinking water in Suffolk County and New York State as well."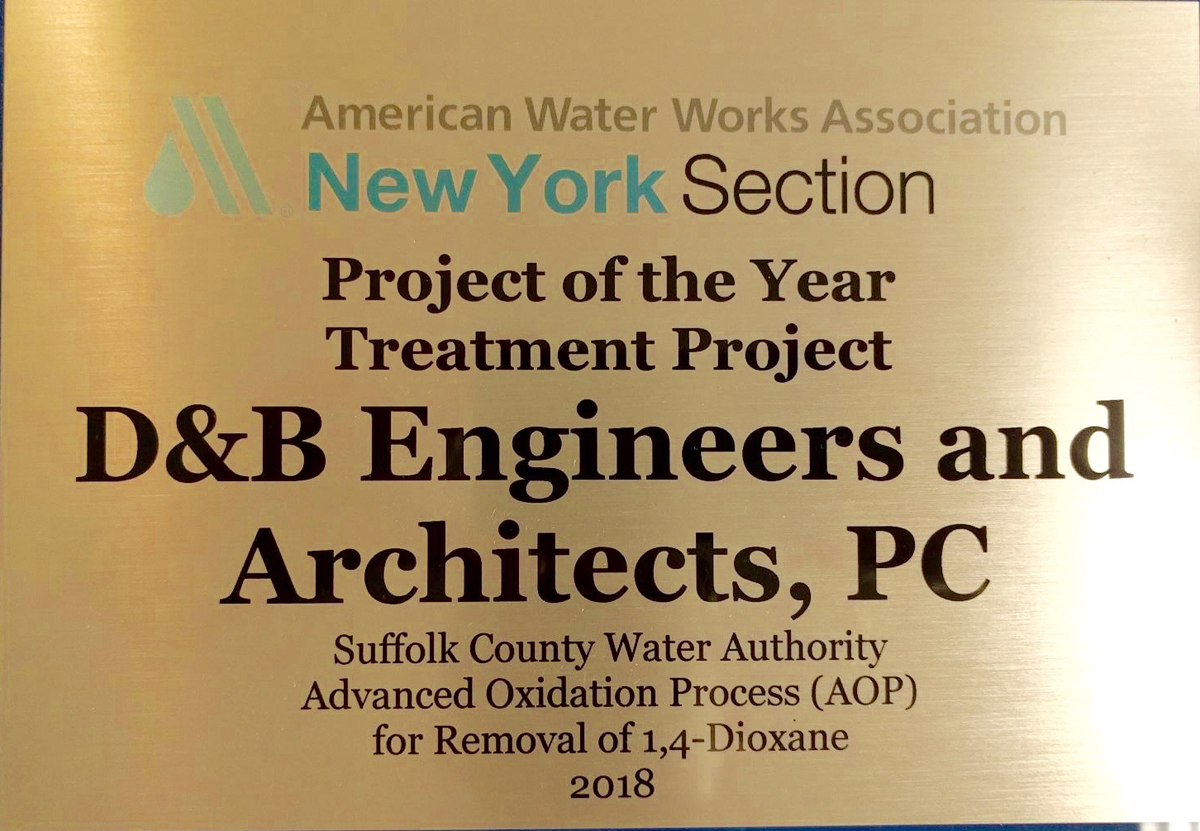 D&B Project of the year 2018 plaque.

Photo Credit: D&B Engineers and Architects.
Mr. Fangmann further noted that as the first AOP system to be reviewed and approved in NYS, "the regulatory framework for compliance needed to be developed. This effort included creating operating procedures, developing process control parameters and establishing sampling requirements. The team worked closely with both the New York State and Suffolk County Department of Health to address all issues which led to the final full-scale design approval of the entire UV- H2O2 AOP system."
About D&B Engineers and Architects, P.C.
For over 50 years, D&B Engineers and Architects, P.C. has been recognized as a regional industry leader and innovator. The firm's experts work with partners to develop creative and effective approaches for solving a wide array of challenges with a special emphasis on drinking water quality issues. The firm prides itself on implementing environmentally acceptable engineering solutions that offer safe and budget conscious solutions for clients from the public and private sectors.