Impossible burgers may be a big deal these days, but hot dogs are still hot.
Joey Chesnut recently took the prize at the Nathan's Famous annual hot dog eating contest at Coney Island, downing 71 hot dogs. Miki Sudo took the prize among women with 31. Nathan's Famous itself walked away with quite a bit of publicity. So how's the company itself doing in this age of Impossible burgers and sweltering weather?
Not bad.
The company, which literally has Famous as its last name, recently reported its own latest quarterly numbers, providing some robust results in both revenue and income. And it's a chance to take a look at how this business has been doing - beyond the baseball stadium.
Jericho-based Nathan's Famous (the contest may be in Brooklyn, but the company is here on Long Island) said revenues rose to $30.5 million for the quarter ended June 24, from $30.2 million a year ago.
Net income rose to $5.4 million from $4.8 million a year ago, while income from operations, another key measure of performance, rose to about $9.5 million from $9.1 million a year ago.
So Nathan's is continuing to rack up sales and revenues, although few people know much about the company behind the brand.
It's All About Royalty
Although the Nathan's Famous brand is certainly famous, many people don't know that Nathan's operates largely as a licensing company, with licensing royalties rising to $8.7 million from $8.1 million a year ago.
Royalties from John Morrell & Co., its principal licensee, rose 8.2 percent to $8.2 million from $7.5 million a year ago.
While the hot dog is its main business, Nathan's Famous offers hot dog and hamburger buns, mustard and other products as well.
And it's busy trying to boost business, by proposing variations on a theme with "hot dog recipes" such as the homestyle mac and cheese dog, hot and spicy fiesta dog, Jamaican escape dog, deluxe nacho dog, Buffalo beef frank and Chicago-style dog.
Although Nathan's Famous will suggest a Chicaco-style dog, the company, founded in 1916, markets itself as offering "the flavor of New York," available everywhere from stadiums to stores.
Nathan's Famous can now point to more than a hundred years of history – as well as products such as its crinkle cut fries. And it has its place in the history of this product.
A brief history of the hot dog
The word "frankfurter" or "frank" comes from Frankfurt, Germany, although there's an ongoing dispute as to the origins of the hot dog itself.
Some credit Charlest Feltman as the father of the hotdog, first with a cart and then with a restaurant in, yes, Coney Island.
Nathan Handwerker, the original Nathan, worked for Feltman, before deciding to go out on his own, in a long tradition of entrepreneurs. His secret: he charged a nickel for a hot dog, only half the price that Feltman asked. It worked.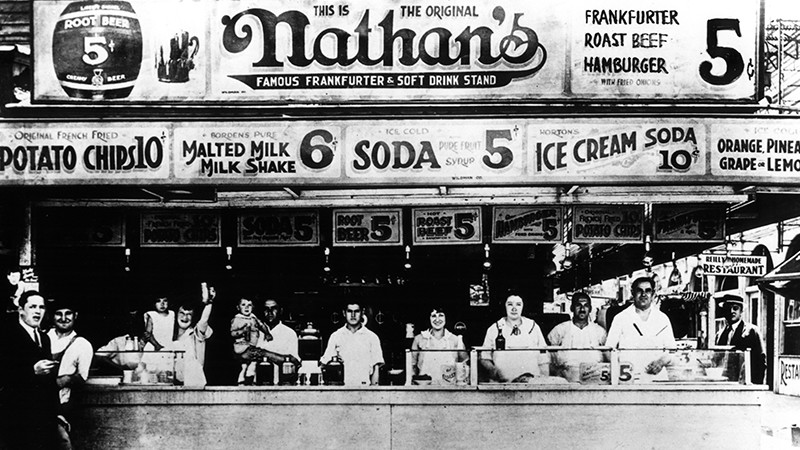 Handwerker opened his first store in Coney Island in 1916, gradually making a name for himself and building a brand - across stores, restaurants and cafeterias.
Sales from restaurants that the company owns and operates in its most recent quarter were $4.1 million, up from $4.0 million a year ago.
"Sales were positively affected, especially at our two Coney Island locations, by favorable weather conditions," the company said in a written statement.
Revenues from franchise operations, however, slipped to $1 million from $1.1 million a year ago and income from operations for hot dogs to the foodservice industry slipped $328,000 to about $2.2 million.
The franchise
Don't, however, blame plant-based burgers for that drop in franchise income: The company attributed it at least in part to winding down a new re-distributor's temporary service to certain customers.
Nathan's Famous said the average selling price in its foodservice program, "partially correlated to the beef markets," decreased by approximately 0.5 percent compared to the prior year.
The company, which is still marketing franchises, has expanded not just around the country, but around the world.
Nathan's hot dogs are sold in 16 foreign nations and territories as well as at home in the United States. That's a total of 78,000 locations, ranging from stores to supermarkets and restaurants.
The company's listed with the ticker "NATH' on the Nasdaq with a market capitalizaton, the value of the stock based on shares and stock price, at just under $300 million.
How many of the brand's hot dogs are sold annually? Last year, more than 700 million Nathan's Famous hotdogs were sold, according to the company.