Old Brookville, NY - March 8th, 2016 - A sprawling campus, vibrant faculty, small class sizes, and a rigorous program are hallmarks of The Green Vale School, a premier Pre-Nursery through 8th Grade independent elementary school on Long Island since 1923. A vital component of learning at Green Vale is early exposure to their Science, Technology, Engineering, Art and Mathematics (STEAM) curriculum.

On March 2, Deborah Gaccione's Pre-Kindergarten students built volcanoes and explored what household ingredients would cause an eruption.

The students created volcanoes using salt dough wrapped around water bottles, before using water, baking soda and vinegar to see what quantities of each were needed for the volcano to finally erupt. The students beamed with curiosity, excitement, and joy as they experimented with each fizzing agent.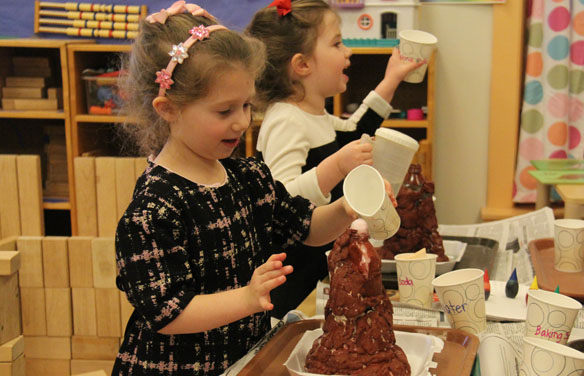 "Our class has been studying dinosaurs for the month of February," said Gaccione. "Studying a topic for a month gives us an opportunity to explore all areas of curriculum – math, language, art, handwriting and science. We have sharpened our math skills by following a recipe to make dough to form fossils.

The students have become paleontologists by carefully using brushes to uncover fossils in our sand-filled sensory table. As a culminating lesson for our dinosaur unit we constructed our volcanoes. We discussed how scientific experiments sometimes work and sometimes fail and that is how experiments work."

"Students in Pre-K are curious learners who thrive in an environment rich in all academic and social areas. It is important for children in Pre-K to be exposed to hands-on scientific learning at an early age to foster a lifelong love of science. Pre-K is an important part of building a solid foundation for the love of learning and an amazing opportunity to allow students to explore all areas of curriculum," added Gaccione.

Starting in Early Childhood, Green Vale students have an incredibly in-depth Science curriculum that is both hands-on and dynamic. Kindergarten students have a lab-based Science program which continues through 8th Grade, and students have access to five dedicated Science teachers and five Science Labs.

In an age when STEAM is vital to our children's education and their future, Green Vale's curriculum and facilities continue to be at the forefront of Long Island schools.

About The Green Vale School
The Green Vale School, located in Old Brookville, Long Island, is an independent school specializing in Early Childhood through Middle School situated on a 40-acre campus on the doorstep of New York City.

Green Vale has been providing students with an uncommon core of academic excellence and character development since 1923 – inspiring students to excel, to lead and to care.