What do you get when you combine cars, creativity, candy, costumes and kids? You get trunk-or-treat! It's a Halloween trend that is growing in popularity on Long Island.
The trunk-or-treating movement is believed to have started in rural communities where houses are far apart, making traditional door-to-door trick-or-treating difficult. The premise of trunk-or-treating is this: People decorate the trunks of their cars with Halloween decorations. Then they bring their car, kids and some candy to a parking lot in a central location, such as a school, place of worship or park. The children in their costumes go trick-or-treating from car to car. It's safe, family-friendly fun and many of the car decorations are wildly imaginative!
There are several Long Island trunk-or-treating events coming up. So get your creative juices flowing and head on over with your family and decked-out car to these locations:
Some events require pre-registration for participating cars. Weather may affect event. See websites or call for details.
Baldwin LIRR Train Station Parking Lot
On Sunrise Highway Between Milburn Ave. and Brookside Ave.
Saturday, October 26
12 – 2 p.m.
A trunk-or-treat is taking place at the Baldwin LIRR train station parking lot. Visit the Nassau County website to register your car for this exciting community event. Bring your children at 12 p.m. to collect candy from the decorated vehicles. Call 571-2455 for any questions or additional information.
Photo courtesy of Nassau County Trunk or Treat Event
Long Island Trading Post
2034 Newbridge Rd. Bellmore
Saturday, October 26
4 – 6 p.m.
This free event features safe treats, music, snacks, activities, raffles, and an appearance by Rico the rooster. There will be a prize for the best trunk. The Long Island Trading Post raises money for Long Island Family & Elder Care. Visit the organization's Facebook page for more information.
230 Second Ave., St. James
3 – 5 p.m.
Children can trick-or-treat from trunk to truck and much more! There will be game booths, a family photo booth and you can bring a pumpkin from home and participate in a carved pumpkin contest. And get ready to have a smash…there will also be a Monster Mash.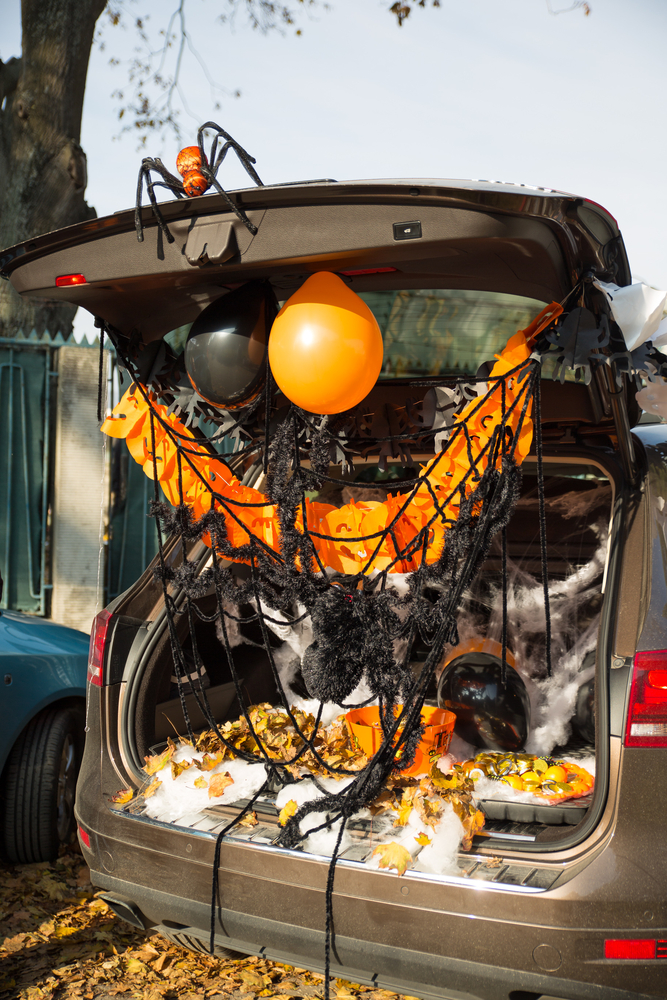 Stotzky Memorial Park- Riverhead NY
Columbus Ave., Riverhead
Friday, October 25
5 - 7:30 p.m.
Families can register to participate in this event that takes places directly before a drive-in movie. Bring treats, dress in costume, and go all out, because each entrant will be entered into a Facebook poll for best decorations. Get more info at RiverheadRecreation.net.