Huntington Arts Council Announces the 49th Annual Huntington Summer Arts Festival
Festival concerts this summer are free admission and open to the general public.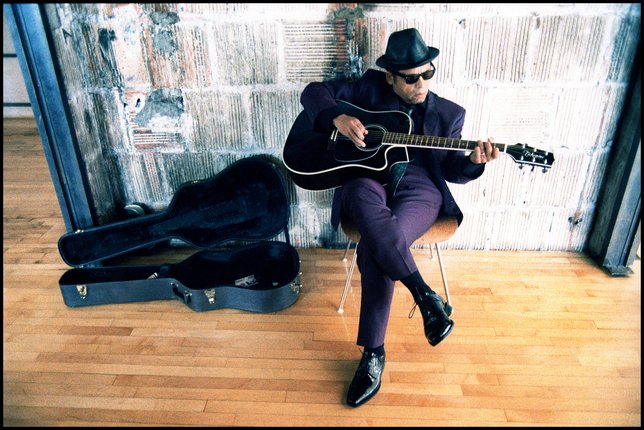 Huntington, NY - June 16, 2014 - The Huntington Arts Council is proud to announce the opening weekend of the 49th Annual Huntington Summer Arts Festival, which begins Thursday, June 26th and runs through Sunday June 29th. Featuring the Huntington Men's Chorus, legendary artists Garland Jeffreys, Jimmy Webb and emerging talent Ester Rada, performances will start at 8:30pm at the Chapin Rainbow Stage in Heckscher Park, Huntington. These and all festival concerts this summer are free admission and open to the general public.
Join us at the Chapin Rainbow Stage, Thursday, June 26th, 8:30pm, for the first of our opening weekend performances featuring the Huntington Men's Chorus. With over 100 active singing members, the Huntington Men's Chorus has been performing for the town's residents every summer since 1949.
On Friday, June 27th singer, songwriter Garland Jeffreys will perform songs from his considerable back catalog ("Wild In The Streets", "Hail, Hail Rock 'N' Roll") as well as his highly acclaimed new CD "Truth Serum." Garland's work merges musical styles from rock and R&B to reggae and dance music with the passionate sensibility of an urban poet. Garland is enjoying the kind of creative second wind most artists can only hope for the first time around, while earning a swarm of critical accolades and experiencing his most prolific stretch in decades.
Jimmy Webb, a living legend of song writing and a true American treasure, performs Saturday evening July 28th. Webb writes the music and lyrics to all of his songs, including the hits "Wichita Lineman," "MacArthur Park," "Up, Up And Away," "By The Time I Get To Phoenix," and "Highwayman". Webb, chairman of the Songwriters Hall of Fame, charms his audience with his music and storytelling, full of humor and humility. He shares his story of how a 16-year-old farm boy found himself a star in Hollywood surrounded by the likes of Frank Sinatra, Glen Campbell, Elvis and more. Guitarist and singer Peter Calo will be the opening act.
Wrapping up the weekend on Sunday June 29th is Israeli-born Ethiopian vocalist Ester Rada. Rada is rapidly gaining worldwide popularity thanks to touring across Europe, Canada, and the U.S.A. She gracefully combines Ethio-Jazz, urban-funk, neo-soul and R&B with mixed undertones of black grooves.
The festival presents more than 40 exhilarating concerts and performances by a diverse roster of artists from around the world with programs of appeal for all musical tastes and all ages. The popular Tuesday Night Family Series is especially attractive for families with young children. The series begins July 1st, 7:30pm with Plaza Theatrical Production's "Beauty & The Beast". Dancing flatware, menacing wolves, and singing furniture fill the stage with thrills in this beloved fairy tale about very different people finding strength in one another and learning how to love. The Huntington Community Band performs each Wednesday evening from July 2 through July 30.
All performances during the Summer Arts Festival are free and held on the Chapin Rainbow Stage in Heckscher Park, Huntington. The festival runs from June 26 through August 10. Most performances begin at 8:30 p.m. unless otherwise posted. Tuesday evening "Family Series" events begin at 7:30 p.m. The Summer Arts Festival is presented by the Town of Huntington and produced by the Huntington Arts Council. Canon U.S.A. is presenting sponsor. Additional support is provided by the New York State Council on the Arts and the County of Suffolk. For more information and to download a full calendar of the Festival performances go to huntingtonarts.org or call 631-271-8423.
About Huntington Arts Council
Now celebrating its 50th Anniversary, the Huntington Arts Council is a legitimate 501c3 not-for-profit organization which enriches the quality of life of Long Islanders with programs and services that address the needs and interests of artists, cultural organizations and the community. The Council's programs reach over one million Long Island residents, and it serves the entire region with its cultural listings at www.huntingtonarts.org.The Huntington Arts Council has been designated a "Primary Institution" by the New York State Council on the Arts, a title meaning "vital to the cultural life of New York State." The Council is the official arts coordinating agency for the Town of Huntington, and serves as the primary regranting agency on Long Island for the New York State Council on the Arts (NYSCA), in addition to its services to over 600 member cultural organizations and individual artist members. Programs are made possible in part by funding from the New York State Council on the Arts, the Town of Huntington, the Suffolk County Department of Cultural Affairs, the County of Suffolk, Bethpage Federal Credit Union, corporations, foundations and individuals.
Photos
Join Our Weekly Newsletter

Sign up for a free weekly newsletter covering things to do, hottest local headlines, and everything Long Island! Read more here or enter your email to signup.