Suffolk Crime Stoppers Searching for Lake Grove Thief
An unidentified woman is wanted for stealing from an Old Navy store.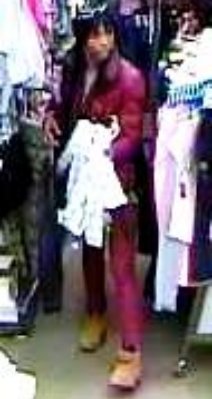 Lake Grove, NY - April 23, 2014 - Suffolk County Crime Stoppers and the Suffolk County Police Fourth Precinct Crime Section are seeking the public's help to identify and locate a woman who is wanted for stealing clothes from Old Navy in Lake Grove.
On April 9, 2014, at approximately 8:10 p.m., an unknown woman entered the Old Navy store located at 6787 Smithaven Plaza in Lake Grove. The suspect removed assorted clothing from the displays and put the items into her pocketbook. The woman left the store without paying for the merchandise.
The suspect is described as a black female in her 30s, approximately 5 feet 7 inches tall, with long black hair. She was wearing a maroon jacket and maroon pants.
Suffolk County Crime Stoppers offers a cash reward of up to $5,000 for information that leads to an arrest. Anyone with information about this crime is asked to call anonymously to Crime Stoppers at 1-800-220-TIPS. All calls will be kept confidential.
Join Our Weekly Newsletter

Sign up for a free weekly newsletter covering things to do, hottest local headlines, and everything Long Island! Read more here or enter your email to signup.