Suspect Wanted for Attack on Gay Couple
Elected officials and volunteers handed out fliers with a sketch of the suspect in Greenwich Village.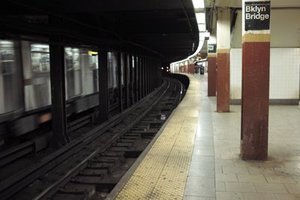 Police are still searching for the suspect wanted for the brutal attack of a gay couple at a New York City subway stop on Sunday morning. Elected officials and volunteers handed out a police sketch of the suspect on Friday, hoping to find the person responsible.

39-year-old J.P. Masterson was with his partner Peter Moore when he was attacked early Sunday morning at the West Fourth Street station after the couple celebrated their 10-year anniversary.

According to CBS News, the suspect approached the couple on the subway platform and asked if they were gay. When Masterson and Moore did not respond, the suspect proceeded to yell profanities at them and attacked Masterson.

"He just came at me in two seconds and then he started shoving me towards the tracks," Masterson said.

The suspect punched Masterson in the face several times. Masterson then threw a drink at the man's face. The suspect then fled the scene.

There were more than 50 people on the subway platform at the time, none of whom intervened or tried to prevent the attack.

"There were 50 or more people and no one said anything, did anything," Masterson told CBS News.

Masterson was taken to a hospital and treated for multiple fractures to his face, eye socket and nose. He is currently waiting to undergo surgery.

The suspect is believed to be 5-foot-8, around 170 pounds and in his late 20s. Anyone with information regarding the suspect's whereabouts or identity should contact Crime Stoppers at (800) 577-TIPS. Calls to Crime Stoppers will be kept anonymous.

[Source: CBS News]
Join Our Weekly Newsletter

Sign up for a free weekly newsletter covering things to do, hottest local headlines, and everything Long Island! Read more here or enter your email to signup.