Wednesday's Winter Weather Advisory Extended Through Thursday Morning
This evening's icy rain has the potential to turn local roadways into a dangerous, slippery mess tonight and tomorrow morning.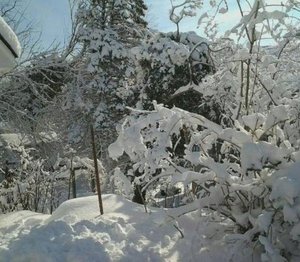 With most of the New York area still cleaning up from Wednesday morning's winter storm, the National Weather Service has issued a Winter Weather Advisory for Long Island that will stay in effect until 10 AM tomorrow morning. The Winter Storm Warning that was supposed to stay in effect until 6 PM today, was cancelled.
This evening's forecast calls for light freezing rain or drizzle, as well as widespread black ice throughout the area as standing water begins to refreeze tomorrow morning. Snow accumulation is expected to be at one inch or less for Long Island, although the NWS warns of a "glaze of ice", which has the potential to create serious road hazards, including slippery roadways.
In their official Winter Weather Advisory statement, the National Weather Service warns "A winter weather advisory for freezing rain and black ice means that freezing rain and black ice will cause travel difficulties. Be prepared for slippery roads, and use caution while driving or walking."
Echoing Cuomo's sentiments from yesterday afternoon, drivers are urged to take caution if travel is necessary tonight or tomorrow morning, and stay off the roads if at all possible. Yesterday, the NYSDOT provided Long Island with an additional 400 tons of salt for clearing and maintaining roadways, however,
As of 6:00 PM today, no closures or delays have been announced for Thursday yet, although these unrelenting hazardous conditions have the potential to cause delays throughout the area. Please visit LongIsland.com's School Closings Page for the latest updates on your local districts closings.
For the most up to date weather information, visit the LongIsland.com Weather Center, where you can find the latest weather forecasts, advisories, and more.
[Source: National Weather Service.]
Pictured: Snow and ice-laden branches on a tree. Photo taken in Kings Park on February 5th.
In the video blow, traffic makes its way through Fort Salonga in the snow and slush on February 5th on 25A.
Videos
Join Our Weekly Newsletter

Sign up for a free weekly newsletter covering things to do, hottest local headlines, and everything Long Island! Read more here or enter your email to signup.