Sweet Summer Smoothie Recipes
Sit back and relax and sip on one of these thick, sweet, blended beverages.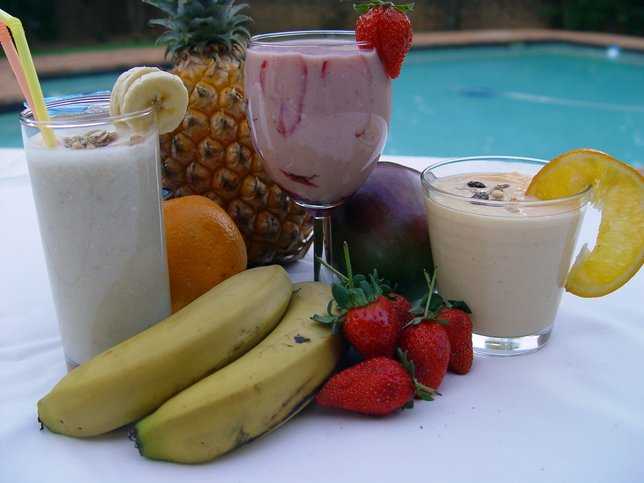 Do you want to know one of the best things about smoothies? In addition to the fact that they are nice and cool, delicious, and perfect for summer, smoothies are great any time of the day! Wake up and blend together a nice fruity smoothie to awaken your taste buds and accompany your breakfast. Mix one together midday to enjoy while you lay out by the swimming pool. How about making a delectable dessert smoothie by using sweet, creamy ingredients? There is literally no wrong time to enjoy a great smoothie.
The other great thing about smoothies is they require minimal time and effort to make. Simply grab your ingredients, measure out the servings, toss in the blender, mix and enjoy! Consider visiting your local farm stand to pick up extra fresh produce and ingredients.
This filling smoothie is perfect for those who are in a rush in the morning and don't have the time to cook an entire breakfast.
Ingredients:
1 banana, cut into pieces
14 strawberries
½ cup rolled oats
1 ½ tsp sugar, white
½ tsp vanilla extract
1 cup soy milk
Directions: Blend all of the ingredients together until smooth. Then enjoy your breakfast on the go!
This smoothie is just the thing to satisfy your sweet tooth and still get in your daily dose of fruit.
Ingredients:
2 cups strawberries
1 cup pound cake, crumbled
1 tbsp sugar, white
1 ½ cups ice
1 ½ cups milk
Directions: Blend all of the ingredients until thoroughly combined. Garnish with more strawberries, and then maybe some whipped cream.
July is harvest time for blueberries so head out to your local farm stand to pick up some fresh blueberries, or opt to pick-your-own, to make this smoothie even better.
Ingredients:
1 cup blueberries
Plain yogurt, 8 oz
2 tbsp sugar, white
1/8 tsp nutmeg
½ tsp vanilla extract
¾ cup milk, 2%
Directions: Blend all of the ingredients together until it has that foamy, frothy look. Use a long spoon to scrape along the sides of the blender to make sure all of the ingredients are being mixed together properly.
Chocolate Peanut Butter Banana Smoothie
A smoothie made with chocolate, peanut butter, and banana? In other words: the perfect liquid dessert.
Ingredients:
2 bananas, cut into pieces
½ cup peanut butter
2 cups ice
1 ½ cups of chocolate milk, you can also substitute with chocolate almond milk or chocolate soy milk
Directions: Measure out all of the ingredients and put them into the blender. Blender for 30 seconds or until smoothly combined.
Do you have any yummy smoothie recipes of your own to share? Let us know in the comments so we can try yours at home too!
[Source: Allrecipes, FoodNetwork, Allrecipes]
Join Our Weekly Newsletter

Sign up for a free weekly newsletter covering things to do, hottest local headlines, and everything Long Island! Read more here or enter your email to signup.