For those looking to "get…out!" of the hustle and bustle of their current area in favor of a quaint, picturesque waterside abode, we have good news for you. Well…mostly good news, anyway.
The infamous "Amityville Horror House," as it has affectionately been called for years, has recently been put on the open real estate market by its current owner. The site of the 1974 DeFeo murders was alleged by its next owners to be haunted as a result; the five-bedroom, three-and-a-half-bathroom Colonial has become the inspiration of a near-endless stream of b-grade horror books and films ever since, and if you've got the fortitude – and perhaps the Ghostbusters on speed-dial – it can be all yours.

Photo of the Amityville "Horror House" by MLSLI
According to Coldwell Banker Harbor Light Real Estate, the home is going for $850,000; but if you find that to be a ghastly sum, bear in mind that the dwelling has previously been listed for as high as $1,000,000 and was purchased by its current occupant, Caroline D'Antonio, for $950,000 in 2010. Sadly, she's selling now after only six years due to the passing of her husband, and has already bought a condo elsewhere on Long Island.
Taxes on the property last year were $20,856, but rest assured, that's (probably) the most terrifying thing about the house these days. However, its past is an entirely different story altogether.
Located on an 11,850 square foot lot at 108 Ocean Avenue (changed from 112 Ocean Avenue by previous owners looking to obtain some degree of anonymity), the house made headlines back in 1974 when the DeFeo family – father Ronald Sr., 44, his wife Louise, 42, and children Dawn, 18, Allison, 13, Marc, 12, and John Matthew, 9 – were all murdered on November 13, with all six victims found lying in their beds on their stomachs, each having been shot by a .35 caliber rifle. The DeFeos had lived at the residence since 1965.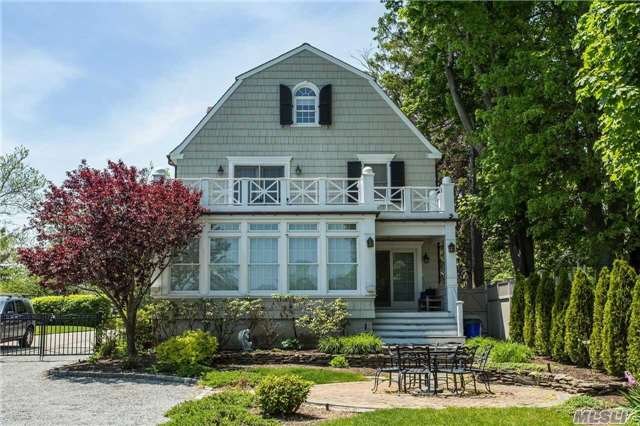 Side view of the Amityville "Horror House" by MLSLI
Shockingly enough, the family's oldest son, Ronald Joseph DeFeo, Jr., 23, eventually confessed to the crime, claiming to have been goaded into doing the foul deed by "voices" that forced him to kill. At his 1975 trial DeFeo, Jr.'s lawyer entered an Insanity plea, although a prosecutorial psychiatrist discredited this by noting that the defendant was aware of his actions when he carried out the murders, had a history of hallucinogenic drug abuse, and suffered from sociopathy.
DeFeo, Jr. was eventually found guilty of six counts of second-degree murder and sentenced to six concurrent terms of 25 years to life. He is currently housed at the Green Haven Correctional Facility in Dutchess County, NY, and to date has given wildly differing accounts of how the killings were carried out.
You'd think that such a horrific event would deter a potential buyer from acquiring the house, but apparently not. Just over a year after the killings, George and Kathy Lutz moved in with their three children, and no, this decision wasn't prefaced by a real estate agent hoodwinking the family about the tragic past of the property; they went in with their eyes wide open, convinced that everything was fine and that they had found their dream home. And only for a mere $80,000!

Front view of the Amityville "Horror House" by MLSLI
Fast-forward 28 days, and Lutz family had hightailed out of their dream (nightmare?) home, spinning tales of paranormal phenomena ranging from strange odors and sounds to bizarre hallucinations, ectoplasmic goo on the carpets, and a distinct chill on the air that not even a roaring fire in their fireplace could combat. Even a priest who had come by to bless the homestead had supposedly falle
n ill after hearing a disembodied voice telling him, in no uncertain terms, to "get...out!" Obviously, the Lutzes' reasoned, it was time to go.
After vacating the premises, the Amityville house attracted its fair share of curiosity seekers and ghost hunters, including noted paranormal investigator Lorraine Warren. However, over the years, many skeptics have maintained that George and Kathy Lutz had either imagined or fabricated events they claimed to have experienced, mostly due to independent inconsistencies in their story and a general lack of evidence overall. In addition, all subsequent owners of the house since have noted no strange noises in the middle of the night, feelings of dread in their basement or attic, or having seen a spook, specter or ghost.

Yard view of the Amityville "Horror House" by MLSLI
But that didn't stop author Jay Anson from kicking off what would become a media franchise by publishing The Amityville Horror in September of 1977. Claiming to be (wait for it) "based on a true story," The Amityville Horror relays the account of the Lutzes' frightening stay in the house, although it's publication was marred by rampant accusations of its accuracy, or lack thereof.
Despite the controversy, the book was adapted into a 1979 film of same name, starring James Brolin and Margot Kidder as George and Kathy Lutz; despite being critically panned, The Amityville Horror was a huge box office success (it made over $86 million on a budget of less than $5 million) and spawned a vast series of sequels; as of now, there have been thirteen – yes, THIRTEEN – Amityville Horror films, with a fourteenth in production and currently slated for release in 2017.
The vast majority of the films are unrelated to any account alleged by either the Lutzes or even Ronald Joseph DeFeo, Jr., with most entries steering straight into full-on horror flick territory and merely using the Ocean Avenue residence as a stereotypical haunted house.
Side view of the Amityville "Horror House" by MLSLI
Despite the sordid history surrounding the events of the Amityville Horror House – both its tragic past as the site of a legitimate mass murder, it's questionable status as a "real" haunted house, and the mining of its bloody past by Hollywood for financial gain ever since – the dwelling nonetheless has held a particularly strong allure for anyone interested in tales of true crime and the supernatural, and it's not unusual to see a random car slowly cruise by 108 Ocean Avenue on any given evening, its occupants staring in both awe and hushed terror.
But if you're interested in picking up the Amityville Horror House now that it's on the market, don't delay…while an $850,000 price tag and the overall history of the house may turn many away, there's a certain segment of the population that would probably jump at the chance to own such a piece of American history…even one steeped in tragedy and the paranormal.
But bear in mind that Coldwell Banker Harbor Light Real Estate, the brokers selling the house, have announced that proof of potential intent to buy – including having the money – is required for a showing to keep away thrill-seekers, but if you actually want to – and you have an extra $850 grand burning a hole in your pocket – you can see first-hand if this is a home truly inhabited by things that go bump in the night...or not.