January 2, 2017 - LI-Kick, Long Island's Premier Adult Kickball & Soccer League, has announced that online registration for their Spring Kickball and Soccer Leagues is now open, and accepting new players. Players can register individually, with groups of friends, or as a team. The Spring 2017 Soccer League will run from March 8th - April 19th, 2017, and the Spring Kickball League will run from April 25th - June 15th, 2016.
In 2016, both the Spring Soccer and Kickball Leads reached capacity, so interested players are urged to register early in order to reserve their spots.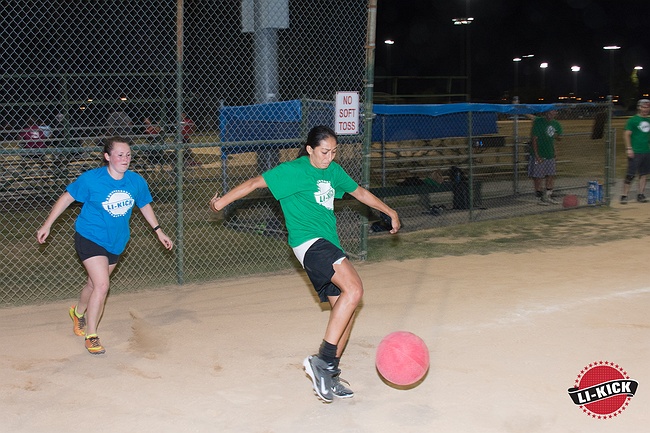 Kickball is fun for all ages. Photo courtesy of LI-Kick.
"What started as a small kickball league has now grown into a massive community of players. LI-Kick offers leagues in kickball and soccer throughout the year and players have embraced the social side of the game, oftentimes taking the fun off the field to organized wine tour, ski trips, white water rafting trips, concerts and countless parties," states founder Sal Farruggia.
For more information about the 2017 Spring Leagues, and other upcoming LI-Kick Leagues, please visit their website.

A good kick can give you plenty of time to make it to first base. Photo courtesy of LI-Kick.
LI-Kick is Long Island's largest provider of social sports, with over 3,000 adults having played in an LI-Kick League or Tournament since 2013.

If you can make it to base before the runner with the ball in your hands they'll be out! Photo courtesy of LI-Kick.
LI-Kick Leagues offer adults on Long Island an interesting and unique way to get out there and have fun while also affording them the opportunity to meet new people, and stay active throughout the year. The League is highly social, and games are followed by organized bar socials and sponsored events throughout the season. To date, three local couples that have met playing in an LI-Kick league are now engaged or married.
Interested players can register to play at www.LI-Kick.com. Players may join as individuals, among a group of friends, or with a full team. Spring Soccer begins March 16th and Kickball begins April 26th. Last year leagues reached capacity so sign up early!