St. James, NY - December 14, 2016 - United States Marines from the Sixth Communications Battalion, Alpha Company, in Farmingdale, NY, visited Harbor Country Day School in St. James to collect thousands of toys donated to the Suffolk County Toys for Tots program. In addition to collecting donated toys from its own students, Harbor Country Day serves as a drop-off location for the surrounding community.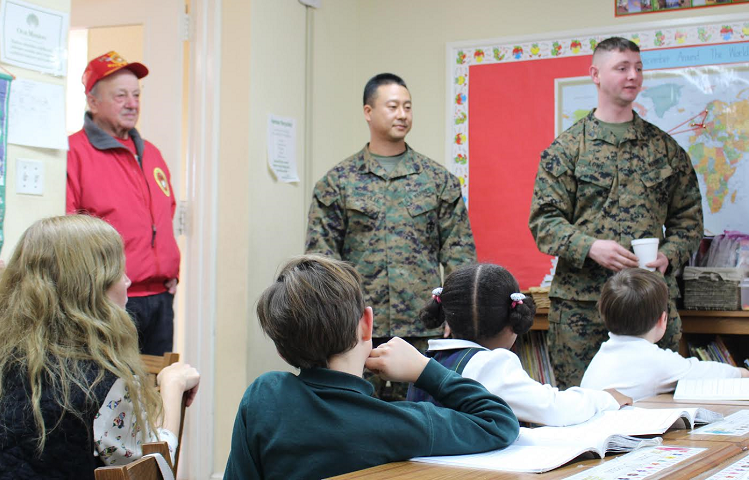 Photo: US Marines visiting with Harbor Country Day first graders.
Harbor Country Day has contributed to the Toys for Tots drive since 1998, when former Harbor employee Mike Guido instituted the program. Now retired from the school, Mr. Guido directs the delivery of toys from various sites throughout Smithtown to Harbor Country Day and other drop-off locations.
The John W. Cooke V.F.W. Post 395 of St. James, of which Mr. Guido is a member, also contributed funds, which were used to purchase toys for the drive.

Photo: Math teacher and student council advisor Lynda McKenna with US Marines.
"We are honored to play a part in the Suffolk County Toys for Tots program," said John Cissel, Head of School for Harbor Country Day School. "During this time of year, when our lives are exceptionally busy and hectic, we cherish the opportunity to slow down a bit and remind our students about the importance of 'stepping outside of ourselves' and helping others in need. The Toys for Tots program is a perfect opportunity to do that and, at the same time, to make a valuable contribution to our surrounding community."

About Harbor Country Day School
Founded in 1958 by conscientious parents, Harbor Country Day School is an independent, co-educational day school for children from preschool through 8 th grade situated in St. James' Village of Head of the Harbor. The school employs a whole-child approach to education, wherein its rigorous curriculum is supported by a broad program in its academic, athletic, advisory, and visual and performing arts departments designed to develop all aspects of each child's talents and interests. Harbor Country Day School's summer camp program, Camp Harbor, is among the leading summer camp programs on Long Island. The school's mission to "cherish childhood, cultivate wonder, and inspire confident learners and leaders" underscores every child's experience at Harbor Country Day School and ensures that all of its graduates are prepared to lead fulfilling lives filled with wonder, confidence, and many successes.

Harbor Country Day School is chartered by the New York State Board of Regents and is accredited by and a member of the New York State Association of Independent Schools (NYSAIS). It is a non-sectarian, nonprofit organization under section 501(c) (3) of the IRS Code governed by a self-perpetuating board of trustees. For more information, visit www.hcdsny.org.

About Toys for Tots
The mission of the U. S. Marine Corps Reserve Toys for Tots Program is to collect new, unwrapped toys during October, November, and December each year, and distribute those toys as Christmas gifts to less fortunate children in the community in which the campaign is conducted. The program helps those children experience the joy of Christmas and plays an active role in their healthy growth and development. During the annual three-month toy collection and distribution campaign, the program unites all members of local communities in a common cause and gives everyone an opportunity to contribute to the future of their community. The Toys for Tots program is the nation's largest holiday toy drive.