Update - May 16, 2016 - Detectives report the arrest of Jay Teich, 47 of Oceanside, for the below robbery. Teich surrendered to detectives on Monday, May 16, 2016 at 10:00 a.m. He is charged with Robbery 3rd degree and will be arraigned Monday, May 16, 2016 at First District Court in Hempstead.
The original press release is below.
Great Neck, NY - December 6, 2015 - The Major Case Bureau is investigating a bank Robbery that occurred on Sunday, December 06, 2015 at 1:00 pm in Great Neck Plaza.
According to Robbery Squad detectives, an unknown male subject entered the Capitol One Bank, located at 121 Middle Neck Road, produced a note to a teller demanding money. The 22 year old female victim complied with an undetermined amount of US currency. The subject then entered the passenger side a blue or black BMW and fled south on Middle Neck Road. There were five (5) employees and one (1) customer inside the bank at the time of the robbery. There were no reported injuries. The subject is described as a male white, between the ages of 50 and 55, 5'8" tall, wearing a dark colored shirt and blue jeans.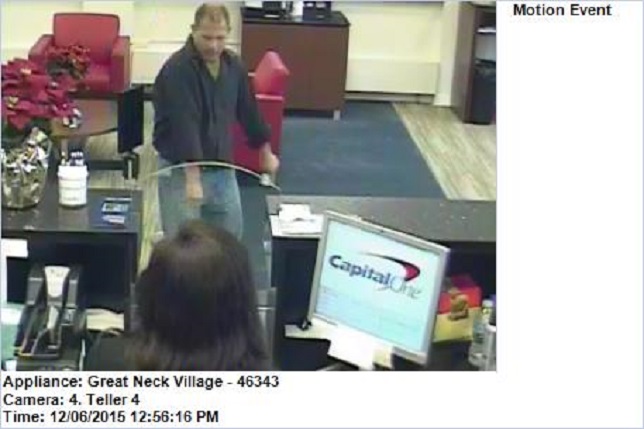 No injuries were reported from the robbery. Detectives are requesting for anyone with information to call Nassau County Crime Stoppers.
Detectives request anyone with information regarding this crime to call Nassau County Crime Stoppers at 1-800-244-TIPS. All callers will remain anonymous.