Nearly a Month After Fatal Levittown Hit-and-Run Death of Teen Driver, Police Still Searching for Suspect
Levittown, NY - December 1, 2017 - On Thursday, November 9, at 4:58 pm in Levittown, 18 year-old Taranjit Parmar – a recent graduate of Division High School in Levittown and who was an honors student at Garden City's Adelphi University – was driving eastbound on Hempstead Turnpike in her 2018 Jeep when she was struck by a red pickup truck attempting to enter the road at the intersection of Gardiners Lane. It was nothing more than a mere fender-bender, occurring just minutes from her home.
However, it quickly escalated into something far more after the two drivers pulled into an adjacent parking lot and Parmar exited her vehicle to inspect the damage while calling her mother on her cell phone. It was at that time, for reasons unknown, that the driver of the red pickup truck – described as a middle-aged white man wearing a baseball hat – suddenly fled the scene, tragically running over Parmar while doing so and dragging her up to 50 feet; the teen barely had time to cry out in surprise before she was struck according to her mother, who was forced to listen helplessly before the call was suddenly cut off.

Nassau County Crime Stoppers van and electronic sign currently stationed at the scene of the accident, asking for wittnesses to contact police. Photo Credit: Chris Boyle
"She had called my wife," Parmar's father, Ranjit Parmar, 50, was quoted as telling the Daily News. "Then she said 'Oh, no, Stop!' and the call got disconnected. There was no answer after that."
Parmar – who would have been 19 on Nov. 14 – sustained trauma to the head and chest, and was transported via Nassau County Police Ambulance to Nassau University Medical Center in East Meadow where she was later pronounced deceased by a staff physician. Since then, police have conducted a hunt for the unidentified driver and have asked any witnesses to come forward, but so far the suspect has eluded justice. A call made this morning by LongIsland.com to the NCPD Public Information Office revealed that no new information on this case is currently available.
Funeral services for Parmar were held at Moloney's Funeral Home and Crematorium in Lake Ronkonkoma on Nov. 13, where hundreds of friends and loved ones gathered to grieve and pay their last respects. Parmar had been studying dentistry at Adelphi University, and had dreamed one day of opening her own dentist office, according to reports. After laying their daughter to rest, her grief-stricken parents issued a statement urging the hit-and-run driver to turn himself in.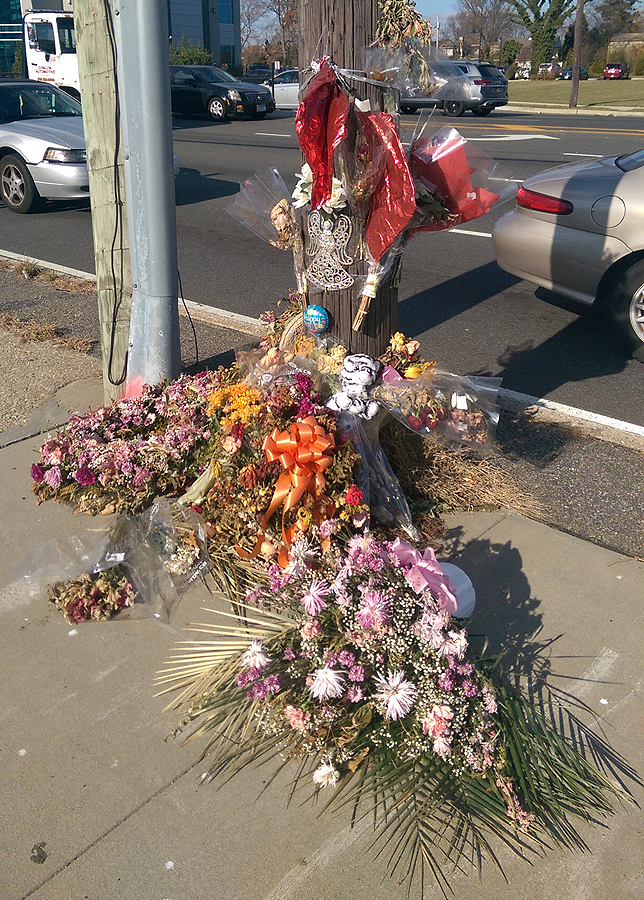 A memorial to Taranjit Parmar at the scene of the accident. Photo Credit: Chris Boyle
In the Hempstead Turnpike parking lot where she was fatally run over, a makeshift memorial consisting of flowers, figurines, and stuffed animals appears to this day, and a Nassau County Crime Stoppers van – including a flashing electronic sign with contact information – serves as grim beacon to any potential witnesses who may have seen the horrific incident, according to Nassau County Police Department spokesman Detective Vincent Garcia.
"This was a minor auto accident and an 18-year-old girl lost her life," he said in a previously-released media statement. "5 p.m. on a Thursday, on Hempstead Turnpike in Levittown. That's bumper-to-bumper traffic. People saw this."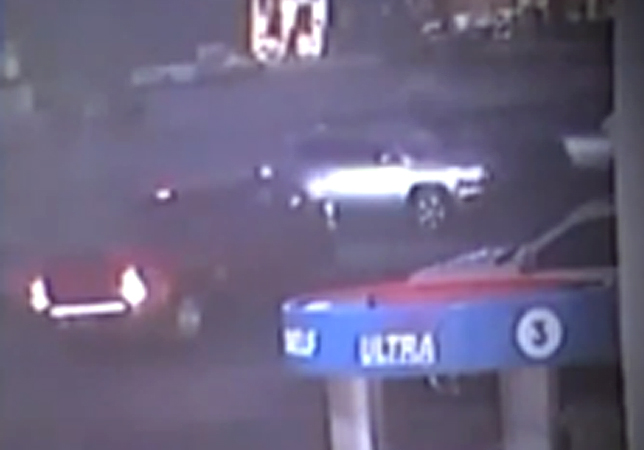 Still from surveillance footage of the initial accident. Photo Credit: NCPD
The accident was caught in-part on a nearby gas station's surveillance camera, although the fatal hit-and-run incident right afterwards was not. The suspect's vehicle is described as a four-door red pickup truck with removable flashing emergency lights, with possible damage to the vehicle's front end from where he struck Parmar's Jeep.
Detectives request anyone with information regarding the above crime to contact Nassau County Crime Stoppers at 1-800-244-TIPS. All callers will remain anonymous.