Sag Harbor, NY - November 4, 2016 - Bay Street Theater & Sag Harbor Center for the Arts is pleased to announce the eighth year of the Literature Live! program. This year's Literature Live! presents The Scarlet Letter adapted for the stage by Scott Eck and Joe Minutillo from the American classic novel by Nathaniel Hawthorne. Public performances are Thursday through Saturday, November 10-12, 17-19 and Thanksgiving weekend November 25-26 at 7 pm.



Pictured is the full cast for The Scarlet Letter. Photo Credit: Lenny Stucker.
Matinee performances will be on Saturdays, November 12, and 26 at 2 pm. Tickets are available online, or by calling the Box Office at 631-725- 9500.

The original script has been adapted specifically for the Bay Street Theater stage from the classic novel by Scott Eck and Joe Minutillo. In 2014, Eck performed the role of Atticus Finch in the Literature Live! production of To Kill A Mockingbird. Mr. Minutillo will be directing the production and has previously directed the Literature Live! productions of The Diary of Anne Frank, To Kill A Mockingbird, and last year's production of John Steinbeck's Of Mice and Men.

Few stories have the distinction of titles so memorable and descriptive that they enter the vernacular as everyday expressions. Nathaniel Hawthorne's 1850 novel The Scarlet Letter is
deservedly one such.



Pictured is Chloe Dirksen and Michael Raver. Photo Credit: Lenny Stucker.
Set in the 1600s in a Puritan village, The Scarlet Letter is an account of the life of Hester Prynne, a married woman who becomes a social outcast, when after an adulterous affair she conceives a daughter during her husband's long absence. She is required to wear the letter "A" for adultery on the breast of her gown. Refusing to name the father, Hester is forced to live a life set apart from nearly everyone she knows. Thanks to the intervention of the Rev. Arthur Dimmesdale, Hester and her daughter Pearl are permitted to stay together. When Hester's missing husband, posing as a doctor, secretly returns as Roger Chillingworth, the stage is set for a story of sin, tragedy, and redemption. This show explores themes of legalism, sin, and guilt.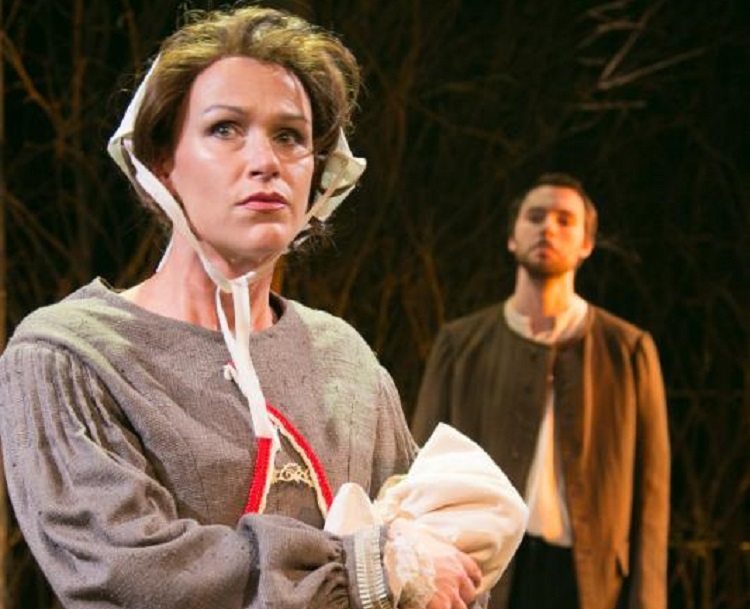 Pictured: Chloe Dirksen and Luke David Young. Photo Credit: Lenny Stucker.
The cast stars Preston Truman Boyd (Broadway: Bullets Over Broadway, Big Fish, She Loves Me) as Beadle/ Man 3; Kathleen Mary Carthy (House of Cards, VEEP) as Mistress Hibbins/Woman 3; Chloe Dirksen (This Wide Night, Conviction ,Literature Live! production of The Crucible) as Hester Prynne; Carolann DiPirro (The Who's Tommy, It Must Be Him) as Goodwife Doolittle/ Woman 2; Luke David Young (We Were Children, Milk) as Blacksmith/ Reverend Wilson/ Man 1; Nick Gregory (Bay Street Theater's Mainstage production of Alone At The Beach, The Night Listener, All My Children) as Roger Chillingworth; Daren Kelly (Deathtrap, Woman of the Year, Literature Live! production of The Diary of Anne Frank) as Governor Bellingham/ Man 2; Jessica Mortellaro (This Wide Night, Into the Woods, Literature Live! The Diary of Anne Frank) as Goodwife Robson/ Woman 1; Dakota Quakenbush (Young Lee Bouvier in Bay Street Theater's 2015 Mainstage production of Grey Gardens, The Musical with Rachel York and Betty Buckley) as Pearl/ Young Child; and Michael Raver (The Persians with Len Cariou, The Seagull with Judy Kaye) as Reverend Arthur Dimmesdale.



Pictured: Nick Gregory and Chloe Dirksen. Photo Credit: Lenny Stucker.
East End resident Felix Bird will compose original music specifically for this production. Bird has composed music for over 300 television episodes over the past 10 years, his music has been heard on shows such as How I Met Your Mother, The Bachelor, America's Got Talent among others. In addition, he has composed music for independent films, documentaries, cable channels, kids animation and commercials.



Pictured: The full cast.
The production team includes Gary Hygom (Set Designer), Mike Billings (Lighting Designer), Kate D'Arcy (Costume Designer), John Sullivan (Production Stage Manager), and Michelle Tewksbury (Assistant Stage Manager).

Literature Live! is sponsored by The Andrew Sabin Family Foundation, Century Arts Foundation, Susan Dusenberry, Susan Edwards & Ian Ziskin, Dana Foundation, Jane Holden, In Memory of Sloane Shelton, Irvin Stern Foundation, The Moxie Foundation, Mary Lou & Sal Ranieri, Nancy Stearns, Theatre Venture, Inc., Susan Goldstein- Sunny & Abe Rosenberg Foundation, Town of Southampton.

Media sponsors are Dan's Papers and Long Island Parent.

Bay Street Theater & Sag Harbor Center for the Arts is a year-round, not-for- profit professional theater and community cultural center which endeavors to innovate, educate, and entertain a diverse community through the practice of the performing arts. We serve as a social and cultural gathering place, an educational resource, and a home for a community of artists.