Take a tour of some historic homes of famous Long Islanders.
Photo from Coltrane Home Website (https://www.thecoltranehome.org)
John Coltrane, Dix Hills - John Coltrane composed his masterpiece, A Love Supreme, in 1964 in this house. In the basement, Alice Coltrane recorded her first album, Monastic Trio, in 1968 and four others after. Visit: 247 Candlewood Path, Dix Hills
Photo: Public domain (https://commons.wikimedia.org/wiki/File:Sagamore_Hill.jpg)
Teddy Roosevelt, Sagamore Hill - Known as the summer White House during his presidency, Sagamore Hill was where Teddy Roosevelt lived from 1885 until his death in 1919. Not only did Roosevelt served as the 26th President of the United States he was also the 33rd Governor of New York, a Nobel Peace Prize recipient, and a New York Police Department Commissioner. Visit: 20 Sagamore Hill Rd, Oyster Bay.
Photo: Dmadeo [CC BY-SA 3.0 (http://creativecommons.org/licenses/by-sa/3.0/)]
Jackson Pollack/Lee Krasner, Springs - Jackson Pollack, the artist who was one of the main innovators in abstract expressionism and is known for his dynamic paint-splattered canvases, lived in this house with his wife, the artist Lee Krasner. The studio floor was preserved with the paint splatters from the compositions Pollack created. It is now known as the Pollock-Krasner House and Studio.
Walt Whitman, Huntington Station - Considered to be the father of American poetry, WWalt Whitman was born right here on Long Island. According to the Walt Whitman Birthplace website, Whitman was born the second of nine children in Huntington on May 31, 1819. His ancestors and family had lived in the West Hills area of South Huntington for over 125 years. Walt Whitman's Birthplace, a State Historic Site listed on the National Register of Historic Places, commemorates his birth. Recently Whitman was honored with a US postage stamp. Visit: 246 Old Walt Whitman Road, Huntington Station.
Photo: National Park Service (https://www.nps.gov/fiis/learn/historyculture/old-mastic-house.htm)
William Floyd, Mastic Beach - William Floyd, a Patriot and signer of the Declaration of Independence, was born in the Mastic house in 1734. In 1976 William Floyd's great-great-granddaughter, Mrs. Cornelia Floyd Nichols, and her children donated the house to the National Park Service. Of the four New Yorkers who signed the document, his is the only house still standing and open to the public. Visit: 245 Park Dr, Mastic Beach.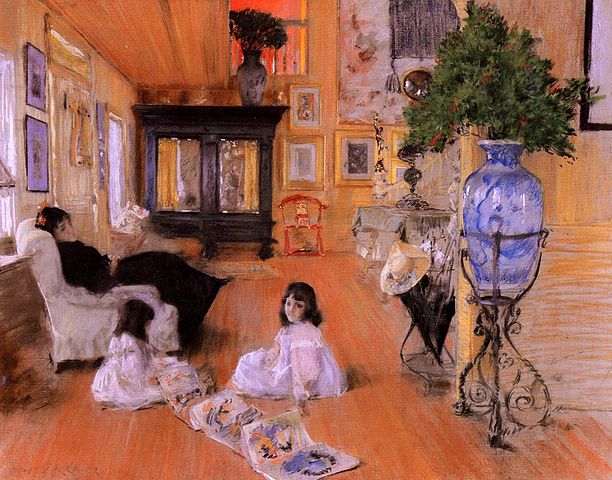 Hall At Shinnecock, 1893. Painting by William Merritt Chase [Public domain]
William Merritt Chase, Southampton - William Merritt Chase was an Impressionist painter and art teacher. He established the Chase School, which eventually became the Parsons School of Design. The summer house, built in 1892, became a home and studio for Chase and his family. It is on the U.S. National Register of Historic Places. Visit: 371 Canoe Place Rd, Southampton