Nothing beats the goey goodness of a classic grilled cheese sandwich, These specialty shops offer the standard grilled cheese plus some delicious new takes on the old standby.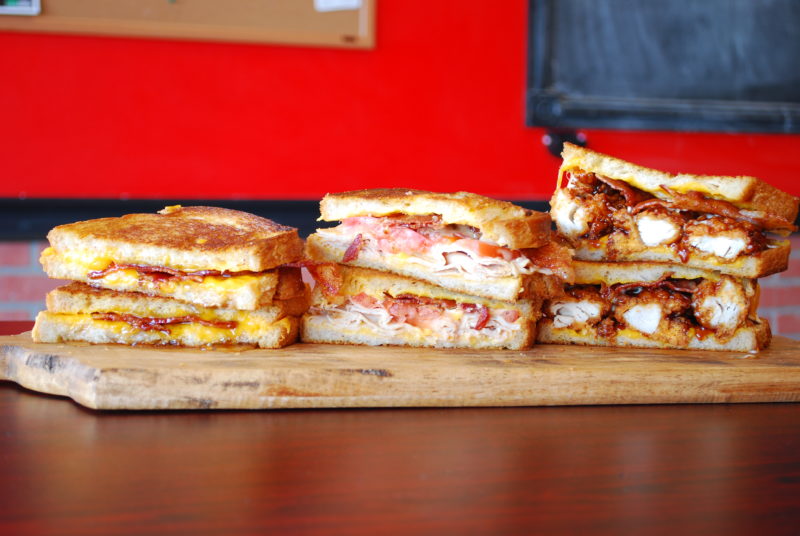 Photo: Meltology website/Facebook page.
Meltology - With custom creations like Red Pepper Hummus and Truffle Muenster this is a gourmet grilled cheese lovers treasure chest of gooey goodness. Locations: 5507 Nesconset Highway, Mt. Sinai, (631) 509-0331; 848 Middle Country Road, Middle Island, (631) 504-6285.
Photo: AJs Grilled Cheese website/Facebook page.
Ajs Grilled Cheese - A selection of mouth-watering menu items includes The Hawaiian, which is grilled honey maple ham, and grilled pineapple with melted cheddar between two slices of sourdough and The Southern which is either pulled pork or pulled chicken smothered in BBQ sauce with melted cheddar also on sourdough. Location: 182 W Montauk Hwy, Bay Shore, (631) 647-9292.
Melt Shop - This chain shop can be found in two local malls. Try their Classic Deluxe with bacon, caramelized onion, sliced tomatoes, American and NY Cheddar on country white. Pairs well with loaded tater tots! Locations: Roosevelt Field Mall, 630 Old Country Rd., Garden City, (516) 405-3221; Smith haven Mall, 313 Smith Haven Mall, Lake Grove, (631) 236-9120.
Photo: Brew Cheese Facebook page.
Brew Cheese - A self-described artisanal cheese shop that also sells craft beer. They pride themselves on their specialty grilled cheese., Locations: 127 Main Street, Stony Brook, (631) 675-6060; 40 Woodbine Avenue, Northport, (631) 239-1927.
Photo: I Heart Mac & Cheese Webiste/Facebook page.
I Heart Mac & Cheese - Build your own grilled cheese! Location: New Village at Patchogue, 3 Village Green, Patchogue, (631) 730-6506.