Lake Placid, NY - October 29, 2016 - Tucker West and Summer Britcher, members of the Sochi Olympic team, converted their respective overnight leads to win USA Luge Norton National Championship titles Saturday at Mount Van Hoevenberg, outside Lake Placid.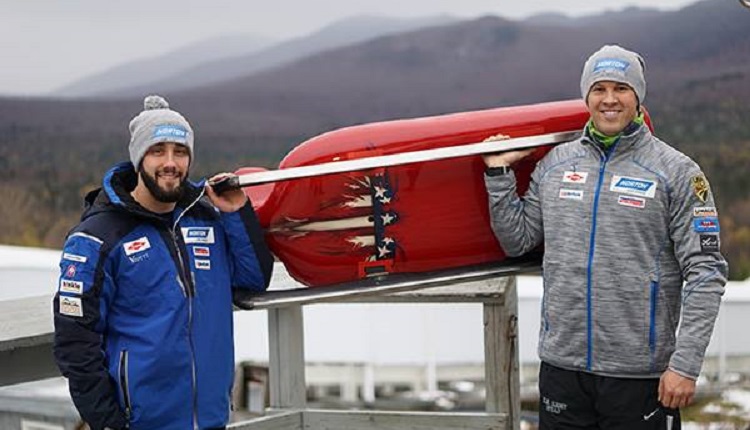 Photo By: Aidan Kelly, via USA Luge on Facebook.
Meanwhile, the doubles team of Matt Mortensen and Jayson Terdiman, 2014 Olympians who raced on different sleds in Sochi, made it three national championships in as many attempts since they became a team in the spring of 2014.
For West, it was his second United States crown after tying with Chris Mazdzer in 2012, while Britcher actually fell behind Emily Sweeney after the third run – Saturday's first – and rallied in the final leg for her first career U.S. title.
West, who in the past two years has won gold and silver medals in Lake Placid World Cup races, used the friendly confines of his home track to dominate all four heats over the two days.
"It was a good week of sliding. There were a few mistakes along the way, but overall I thought my sliding was pretty good," said West. "So moving into the next few races, over the next couple of weeks, I'll keep making more and more improvements to both my sled and sliding style, and then hopefully come four weeks from now we'll be ready to take it to the world."
The Ridgefield, Conn. racer totaled 3 minutes, 27.394 seconds for a convincing victory. Taylor Morris, of South Jordan, Utah, claimed the silver medal in 3:28.617, just 0.02 of a second ahead of Jonny Gustafson, of Massena, N.Y. Gustafson, in the runner-up spot after the first two legs, recorded a combined 3:28.636.
Riley Stohr, of Whitehall, Mich., took fourth place with John Fennell of Rouses Point, N.Y., fifth. A dual citizen, Fennell left the Canadian Luge Association and came to USA Luge last spring.
Saturday's two attempts down the 19-curve course doubled as the first of three seeding races to determine the remaining spots on the U.S. men's and women's World Cup teams. The American squad may carry up to five athletes in men's singles.
After picking up two World Cup medals last season and finishing seventh in the overall standings, West was exempt from team qualifying as was Mazdzer. The Saranac Lake, N.Y. luge racer, now completing a week on the 2018 Olympic track in PyeongChang, did not participate in the Lake Placid events. He landed on the World Cup podium five times last year – including two victories – and placed a career best third.
Another team member missing from the lineup was 2014 Olympian and 2015 Norton National Champion Aidan Kelly, of West Islip, N.Y. Kelly's herniated disc and ensuing recovery will sideline him this winter from the World Cup tour. He will begin training in Lake Placid upon receiving medical clearance.
Britcher, of Glen Rock, Pa., had the fastest times in three of the four legs. Her final heat down the twisting, technical layout thwarted Sweeney's attempt at an upset, given how the Suffield, Conn. athlete is unable to use a complete start due to recent wrist surgery and ensuing rehabilitation.
"It feels pretty good to finally take home the title," remarked Britcher, whose three World Cup victories last year tied for the tour lead. "It's been pretty elusive. It's a good feeling and it's a good way to start the season.
"This morning the first run I realized I wasn't really sliding to the best of my abilities. Technically the run was fairly OK, but I didn't have the right flow and smoothness that you want to have a really good race run. So I was able to find that and was a lot happier with the second run."
Britcher finished with a four-run time of 2:57.960. Sweeney collected the national silver medal in 2:58.163, followed by Erin Hamlin, of Remsen, N.Y., Olympic bronze medalist and World Champion, third, in 2:58.601.
All three were on the World Cup podium here last December, on the history-making day that saw a Hamlin-Sweeney-Britcher finish in that order. All three are exempt from team qualification. The women's quota for World Cup events is four.
Raychel Germaine, of Roswell, Ga., was fourth on a day that saw intermittent rain with temperatures in the mid-30s. Germaine was followed by two Junior National Team members. Brittney Arndt, of Park City, Utah, slid into fifth place, with Grace Weinberg, of Pittsfield, Vt., sixth.
Vancouver Olympian Julia Clukey, of Augusta, Maine, announced her retirement several months ago.
Mortensen, of Huntington Station, N.Y., and Terdiman, of Berwick, Pa., continue to improve their getaway times at the start of each run. It's an element of their sliding they have addressed each off season.
"We've slid pretty well this season to far. We've had a bunch of runs," commented Mortensen. "We got pre-season training in Lillehammer. We won the Lillehammer Cup. Coming into this season Jayson and I are a bit smarter, a bit wiser. We have some experience behind us. We know how to set the sled up for early season Lake Placid, so we have some confidence in that. Our start time is significantly improving, so all things have been going good for us so far."
"Matt and I talked about a plan three years ago when we got together as a team," added Terdiman. "We're following that plan tremendously, and right how we're right where we thought we would be. Hopefully we can keep on improving from where we're at, for the next year and a half, going into the PyeongChang Games."
The winners outraced the field in the bottom of the course in sections known as The Chicane and The Heart, and took the Norton National Championship with the two fastest runs of the day. Mortensen and Terdiman were clocked in 1:29.081, running away from Justin Krewson, of Eastport, N.Y., and Andrew Sherk, of Fort Washington, Pa. The silver medalists posted 1:29.441.
Jake Hyrns, of Muskegon, Mich., and Anthony Espinoza, of Park City, had third place time of 1:30.080.
The national doubles race was also a seeding event. USA Luge can enter three doubles sleds in World Cup meets.
The team now departs for training camps and two more seeding races on the Olympic tracks at Whistler, B.C. (Nov. 5) and Park City (Nov. 11).
The World Cup tour begins November 26-27 in Winterberg, Germany, followed by World Cup races in Lake Placid (Dec. 2-3), Whistler (Dec. 9-10) and Park City (Dec. 16-17).
For complete interviews with the Norton National Champions and images from Saturday, please log on here