Plum Island was initially slated to be used for a biological warfare research program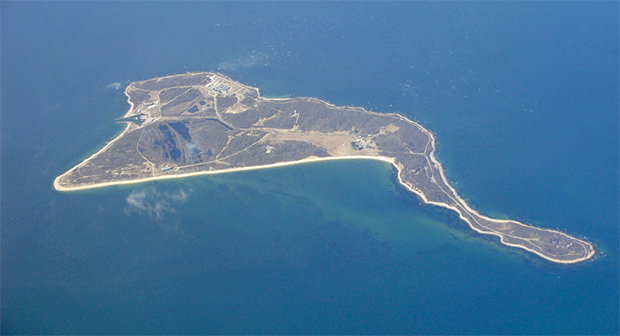 Photo: kyselak / CC BY-SA (https://creativecommons.org/licenses/by-sa/3.0)
While conspiracy theories and mystery surround Plum Island - mostly as a result of its tight security and top secret research - the real life Plum Island is as interesting as any made up story. While you cannot go there (it's patrolled 24/7) there's enough information about the island to make for some very interesting reading.
In the early 1950s the Army set up a biological warfare research program on the island in Building 257 but it was quickly disbanded. The Plum Island Animal Disease Center (PIADC) was established there by the United States Department of Agriculture (USDA) in 1954. Foot-and-mouth outbreaks in Canadian and Mexican cows prompted the formation of the lab. In 1978 there was an outbreak of foot-and-mouth disease in the lab that was contained before it reached the mainland. Over 200 animals on the island had to be destroyed due to that outbreak - they used to live outside of the lab in pens and after that, cells were built to contain the animals.
Read many more crazy facts about Plum Island here.
Brookhaven National Lab was the site of a WWI camp
Brookhaven National Lab Main Entrance Sign. Photo: Brookhaven National Lab.
With around $650 million in annual funding, employing over 2,500 people and home to seven Nobel Prizes, Brookhaven National Lab is a heavy-hitter in the scientific community. It's a multipurpose lab that runs large, state-of-the-art facilities doing some of the world's most cutting-edge scientific research.
U.S. Army's Camp Upton was active from 1917 until 1920, and from 1940 until 1946. In 1947, Brookhaven National Lab (BNL) was established by the US Atomic Energy Commission (AEC)—predecessor to today's Department of Energy (DOE)—to be run by AUI on the former site of the U.S. Army's Camp Upton.
Read more historical and crazy facts about Brookhaven National Lab here.
Teddy Roosevelt and his Rough Riders quarantined in Montauk
Photo: No known restrictions on publication.
In the late 1800s, Teddy Roosevelt and his Rough Riders were quarantined and convalesced at Camp Wikoff in Montauk after fighting in Cuba. According to a 1998 article in the New York Times about the 100 -year anniversary of the troops' stay there, "the huge camp, which was spread over most of Montauk, lasted from mid-August to late October, 1898, while the men recovered from battle wounds, yellow fever, malaria and typhoid." Read the full story and see some great historical pics here.
The Jones Beach Water Tower extends 1,000 feet underground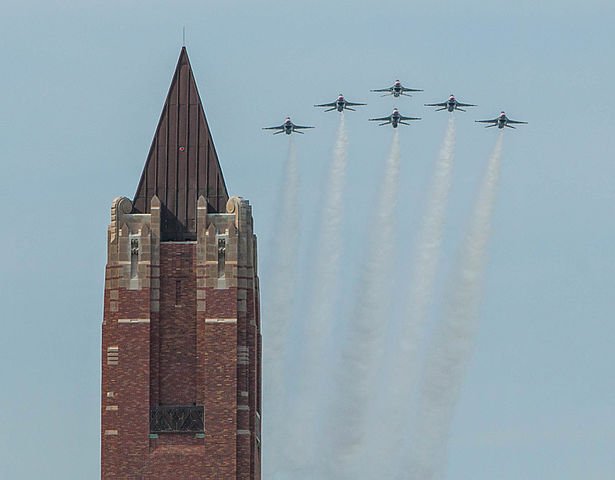 Anthony Quintano [CC BY 2.0 (https://creativecommons.org/licenses/by/2.0)]
This iconic structure has been mesmerizing beachgoers for almost 90 years. You might simply know it as "the pencil" or you might know the architectural inspiration for its design (spoiler alert: the bell tower of St Mark's Basilica) but this tower is more than a monument, it's a fully functioning water tower supplying the park with all its fresh water.
It was first built in 1930. The roof (the point) is made of copper and is 32 feet high. The tower measures 188 feet tall (or 231 feet tall depending on where you look up the info) and extends more than 1,000 feet underground.
Read more facts about the Jones Beach Water Tower here.
MacArthur Airport was originally built for military use during WWII
Photo: Long Island MacArthur Airport facebook page.
When you don't want to schlep into the city and fight the crowds at JFK or - gasp - LaGuardia, then your only other choice is Long Island's hometown airport, MacArthur. It might not get you everywhere but it's a sure bet if you want to jet down to Florida to visit the folks or the mouse.
In 1942 after Pearl Harbor was bombed, the airport was built on Islip Town-owned land for military use during the war. The airport took one year to build and cost $1.5 million and was originally named Islip Airport. At the time, the airfield consisted of three 5,000-foot runways. Islip Airport was renamed MacArthur Airport after General Douglas MacArthur. After WWII the Town of Islip took over ownership of the airport from the U.S. Army Air Corps.
Read more crazy facts about MacArthur Airport here.