Long Island, NY - October 26, 2018 - A nor'easter is slated to hit the shores of Long Island this weekend, bringing with it strong winds, heavy rain, and potential coastal flooding, according to an alert issued by the National Weather Service (NWS).
Made up of the lingering remains of Hurricane Willa, the nor'easter is expected to deliver wind gusts as high as 50 miles per hour and will result in several days of cold, rainy weather that is sure to put a damper on any early Halloween activities local residents may have planned this Saturday and Sunday.
Rain is expected to hit New York at approximately midnight tonight, with the downpour to intensify throughout the early morning hours on Saturday, generating anywhere between one to three inches of rain, depending on how hard the area is hit.
The forecast calls for temperatures in the high 40's on Saturday, and wind gusts could reach as high as 50 miles per hour in coastal regions, and 35 to 40 miles per hour more inland. The NWS warns that coastal areas will be face potential flooding and that residents of those areas should take precautions as a result.
The harsh weather is expected to let up slightly on Sunday, with temperatures in the mid-to-high 50's and a mixture of sun and clouds; however, a chance of more rain will hang over the forecast during the daytime hours, with the chance of precipitation increasing as Sunday evening approaches.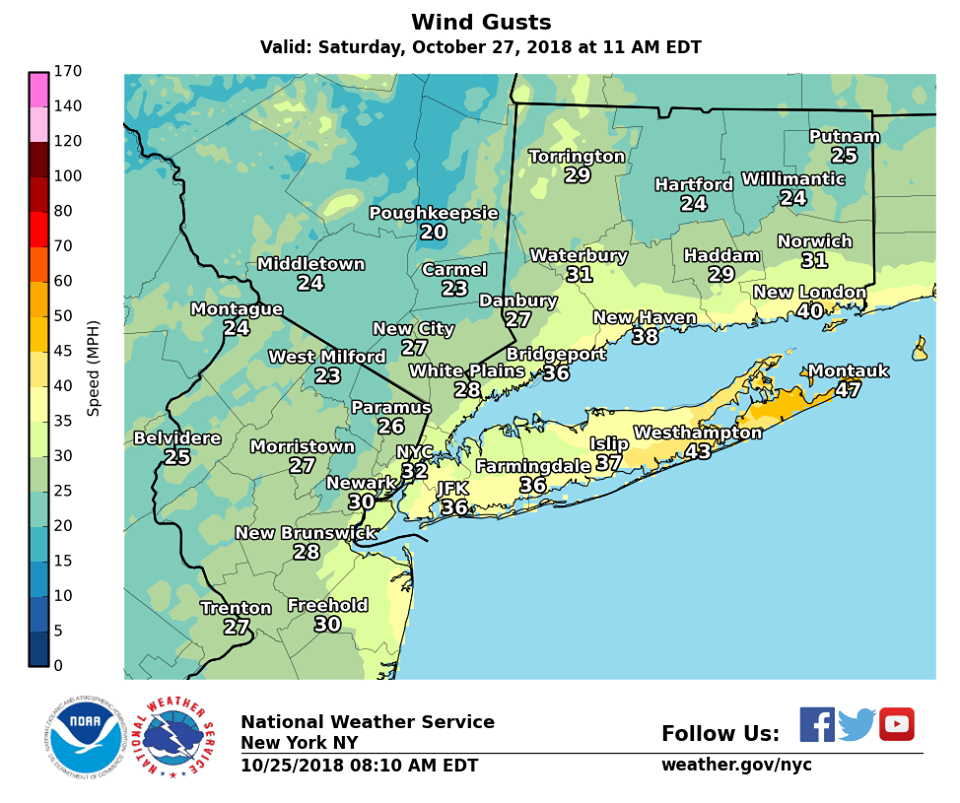 The NWS has issued the following Advisories for the Long Island region:
A Wind Advisory is in effect from 1 a.m. to 12 p.m. Saturday

A High Surf Advisory is in effect from 6 a.m. to 6 p.m. Saturday

A Coastal Flood Warning is in effect from 9 a.m. to 4 p.m. Saturday
Residents are advised to prepare for possible power outages with blankets, flashlights, non-perishable food, water, and battery operated radios for storm and news updates.
Be prepared and stay safe during extreme weather:
To report and receive status updates on an outage Text OUT to PSEGLI (773454) or to report an outage online visit www.psegliny.com.

Follow PSEG Long Island on Facebook and Twitter to report an outage and to get updates before, during and after the storm.

Downed wires should always be considered "live." Do not approach or drive over a downed line and do not touch anything contacting the wire. To report a downed wire call PSEG Long Island's 24-hour Electric Service number: 1-800-490-0075.

Visit PSEG Long Island's outage map to view outage information across Long Island and the Rockaways at https://outagemap.psegliny.com.
Make sure everyone in the family is prepared and knows what to do if there is an emergency. Visit https://www.psegliny.com/page.cfm/Home/Safety to learn about safety tips, YouTube safety videos, and more.
Here is the official NWS forecast for Long Island the next several days:
This Afternoon: Partly sunny, with a high near 50. Northeast wind around 6 mph becoming southeast.
Tonight: Rain, mainly after 9pm. Steady temperature around 48. Breezy, with an east wind 7 to 12 mph increasing to 15 to 20 mph after midnight. Winds could gust as high as 31 mph. Chance of precipitation is 100%. New precipitation amounts between a half and three quarters of an inch possible.
Saturday: Rain. The rain could be heavy at times. High near 57. Windy, with an east wind 21 to 29 mph, with gusts as high as 47 mph. Chance of precipitation is 100%. New precipitation amounts between three quarters and one inch possible.
Saturday Night: Showers likely before midnight, then a slight chance of drizzle or light rain after midnight. Cloudy, with a low around 48. East wind 8 to 11 mph becoming southwest after midnight. Chance of precipitation is 60%.
Sunday: A 20 percent chance of showers. Mostly cloudy, with a high near 57. Southwest wind 9 to 13 mph.

Sunday Night: A 50 percent chance of rain after midnight. Mostly cloudy, with a low around 47.

Monday: Rain likely, mainly before 3pm. Mostly cloudy, with a high near 56. Chance of precipitation is 60%.
Monday Night: Mostly cloudy, with a low around 42.