PSEG Long Island Debuts the Next Generation of My Account
Uniondale, NY - October 26, 2016 - PSEG Long Island recently launched its redesigned My Account portal, the latest in a series of customer experience upgrades. Completely revamped from its previous version, the new My Account features a responsive design that adapts to any screen size – desktop, mobile or tablet – across virtually any device. Customers can quickly and easily pay their bill; sign-up for available programs, including Paperless Billing, DirectPay, and Balanced Billing; manage their account profile, along with a variety of other self-service options.

"PSEG Long Island continues to upgrade its programs, processes and tools, providing its customers with the best experience when they are doing business with us," said Dan Eichhorn, vice president of Customer Services at PSEG Long Island. "The new My Account is another important example of our commitment to becoming the industry-leading electric company that our customers expect and deserve."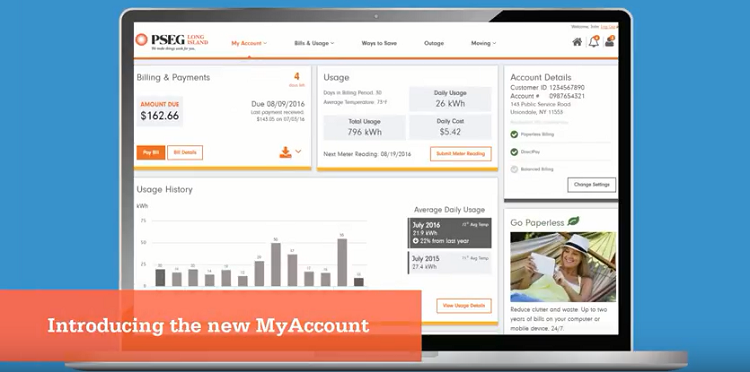 With several new features added to provide even more functionality, customers will now have the ability to:
Report an outage and check outage status

Submit a meter reading by simply taking a photo of their meter and submitting it directly from their smartphones

Analyze their usage and a breakdown of current charges with new charts and graphs located on their account dashboard

Review tips on how to save energy and lower their electric bill, see available rebate opportunities, or check their rebate status from the new Ways to Save page

View or download up to 24 months of bills.
Customers can now quickly and easily send up to 13 months of usage history to any email address with one click. This feature is particularly helpful for utility customers looking into energy efficiency and renewables programs, including going solar. By simply entering a contractor's email address, customers can quickly send their usage history without revealing any other personal information about their accounts.

The new My Account gives customers the option to manage their accounts anytime, anywhere and on almost any device. For more information, visit here.

Along with upgrading the My Account platform, PSEG Long Island is currently working on several other program enhancements. The utility recently unveiled its new paper bill design to customers, launched a revamped balanced billing program, and over the next two months, PSEG Long Island will deliver additional upgrades and developments designed to make it even easier and more convenient for its customers to do business with the utility.