Suffolk County, NY - October 25, 2016 - On Sunday, October 30th, over 2,600 pairs of sneaker-clad feet will be pounding the pavement in unison as the Suffolk County Marathon and Freedom Festival: Taste of Long Island holds its second annual event, with all net proceeds going to a great cause- supporting U.S. military veterans in need.

Official 2016 Suffolk County Marathon and Freedom Festival: Taste of Long Island logo. Image courtesy of Suffolk County.
This is the marathon's second year in existence; the inaugural event last year was conceptualized by Suffolk County Executive Steve Bellone after making an effort to embrace a healthier lifestyle, according to Ryan McGarry, Bellone's Deputy Chief of Staff.
"Steve had gotten into the sport of running after putting on some weight after taking on the job of County Executive, eventually running in the 2014 New York City Marathon. And while running in that event, he was raising money for veterans causes," McGarry said. "This got him and his and staff thinking...why not bring a marathon to Suffolk County and do it right here at home? The County Executive took the ball and ran with it, saying that if we're going to go to the trouble of doing a marathon here, we have to do it right, and whatever money we raise has to go to veterans causes."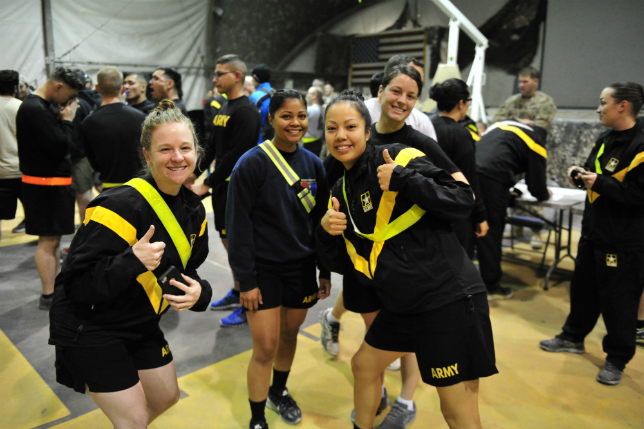 Soldiers, contractors and others who ran a 5k at Bagram Air Base in Afghanistan this weekend, a virtual run that is part of the Suffolk Marathon. Image courtesy of Suffolk County.
Suffolk County currently is home to 90,000 veterans; this makes Suffolk the largest concentration of veterans in the entire state of New York, and the second largest in the entire country McGarry noted.
"This is something that we're very proud of," he said. "Obviously, these men and women give so much on behalf of all of us, and we saw the marathon as a way to thank, honor, and celebrate our veterans while the same time raising some money to provide some much-needed services for them."

Soldiers, contractors and others who ran a 5k at Bagram Air Base in Afghanistan this weekend, a virtual run that is part of the Suffolk Marathon. Image courtesy of Suffolk County.
All net proceeds from the marathon, once expenses are taken into consideration, go directly to the Suffolk County budget in the form of a special veterans fund; an advisory committee comprised of Gold Star parents, elected officials, and representatives for major veterans organizations decide which vet groups receive grant money from this fund. After all was said and done, last year's marathon raised over $160,000, all of which went to Suffolk County vets.
The starting line for all three races is on Montauk Highway in Patchogue, with the three individual courses complexly thought out; they take their participants down Montauk Highway and around and through locations such as St. John's University, Heckscher State Park, and multiple downtown areas on their way to their respective finish lines.

Map laying out the courses of the Suffolk County full marathon, half-marathon, and 5K run on October 30th, 2016. Image courtesy of Suffolk County.
In addition, there will be a related Sports and Fitness Expo at the Patchogue YMCA on Friday the 28th and Saturday the 29th.
At the inaugural Marathon, there were only two events – a half and a full marathon – with a total of approximately 2500 Runners. This year, McGarry noted, a 5K has been added to the event as well, and so far 3,500 people have registered to participate; either by running, or simply donating money outright via a direct donation option, he said.

County Executive Steve Bellone met with some of the pilots who will fly their biplanes over the start of the marathon course on Sunday. Image courtesy of Suffolk County.
"Overall, we're expecting at least 2,600 runners on October 30th, possibly more," he said. "With the Freedom Festival, we're expecting a crowd of anywhere between 7,500 and 10,000 people, so it's going to be a huge event."
Speaking of the Freedom Festival, McGarry said that this is also a new addition to the marathon this year, added as a way to tie the event into the event's overall theme- helping veterans. In addition, the event also serves an ancillary goal as an economic driver of sorts for local businesses and the economy.

A plane from the Bayport Aerodrome, flown by a veteran, will fly over the start line of the Marathon this Sunday, October 30th. Image courtesy of Suffolk County.
"The Freedom Festival: Taste of Long Island is a street fair that's going to be our post-race celebration," he said. "Since our finish line is in downtown Patchogue this year, will have three stages of live music featuring local bands playing from 9 a.m. to 4 p.m., as well as five breweries, a beer garden, and two vineyards participating. In addition, some major Patchogue restaurants are going to be setting up shop outside so folks can have the novelty of dining right on Montauk Highway, and a lot of fun family activities will be available as well."
This all makes for a grand day dedicated to providing for Suffolk County's 90,000 veterans; men and women who answered the call of duty and put their lives on the line to defend the freedoms that we hold so near and dear, according to County Executive Steve Bellone, who will once again be a very active participant in the full marathon this year.

County Executive Steve Bellone posing with a vendor at last year's Suffolk County Marathon. Image courtesy of Suffolk County.
The Suffolk Marathon and Freedom Fest is a great event that allows us to honor the sacrifices our veterans have made for us," Bellone said in a statement. "It's also an opportunity to enjoy the race and sample the foods, wines and beers produced right here on Long Island while listening to some great music from Long Island bands. We encourage everyone to come to Patchogue for the day, support our veterans, and have a great time."
For more information, please visit suffolkmarathon.com.