Stony Brook, NY - October 26, 2016 - Long Island Music Hall of Fame Inductees Big Daddy Kane and Chuck D. will be Tom Needham's guests on the Sounds of Film this Thursday at 6 P.M. on WUSB. In addition, punk rock director Penelope Spheeris will be on the show.
On

Nov. 3rd

, Big Daddy Kane will be inducted into the Long Island Music Hall of Fame along with Carter Burwell, Vince Giordano, Garland Jeffreys, Steve Vai, Santo & Johnny, Charles Koppelmen, Sandy Perlman and Jim Steinman. Big Daddy Kane is a Grammy-Award winning artist. MTV listed him at number 7 in their Greatest MC's Of All Time and the Source put him at number 8 on their Top Lyricists of All Time. Some of his biggest albums include Long Live the Kane, It's a Big Daddy Kane Thing, and Taste of Chocolate. As an actor, big Daddy Kane has appeared in many films including Posse, The Meteor Man and Dead Heist. Big Daddy Kane's award will be presented by Public Enemy's Chuck D.
Photo: Chuck D.
Public Enemy's Chuck D. will also be joining Tom on the Sounds of Film. Chuck D. is a member of the Rock and Roll Hall of Fame and the Long Island Music Hall of Fame. Through the years, his group, Public Enemy, has produced countless numbers of hip hop classics including "Fight the Power," "Don't Believe the Hype," and "Welcome to the Terrordome." His music has also been featured in numerous movies including Do the Right Thing, He Got Game, Star Trek Beyond and American Gangster.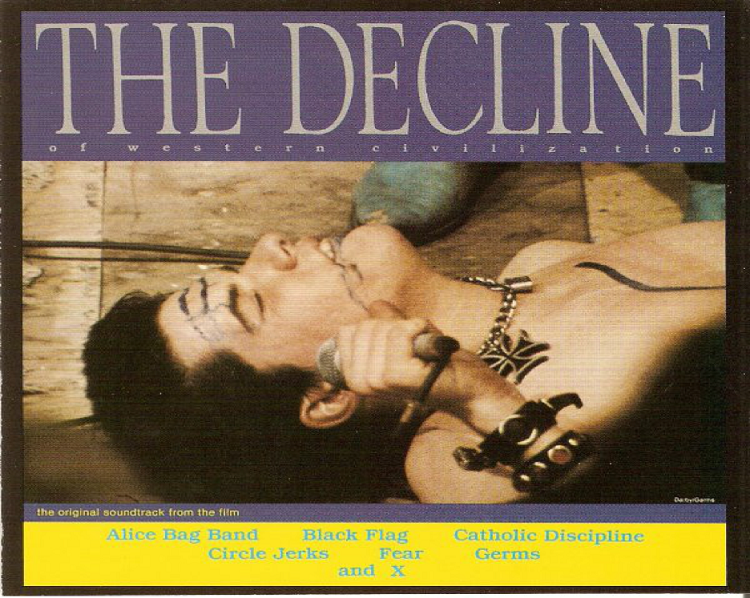 Photo: Decline of Western Civilization Soundtrack.
In addition, director Penelope Spheeris will be on the Sounds of Film. Penelope is the director of both Hollywood comedies like Wayne's World, the Little Rascals and Beverly Hillbillies, and the punk rock documentary trilogy The Decline of Western Civilization Parts 1, 2 and 3. Penelope will be attending a special screening of the Decline of Western Civilization Part 1 at the Cinema Arts Centre on

November 2nd at 7:30 PM

.
About the Sounds of Film
The Sounds of Film is the nation's longest-running film-themed radio show. For the past 29 years the program has delivered a popular mix of interviews and music to listeners all over Long Island, parts of Connecticut and streaming live at wusb.fm. Past guests include Nile Rodgers, composer Cliff Martinez, Daryl 'DMC" McDaniels, Dionne Warwick and Michael Moore.