The revitalization of the Village of Patchogue is one of Long Island's best success stories. The once dormant village is now a vibrant, fun place to go to shop, play and party. It's historic Main Street maintains its charm while catering to a young and old alike. New restaurants are popping up all the time on and off Main Street as well as shops and bars and taverns that maintain a healthy nightlife. Parking is sometimes a problem but the village is working on solutions, like a couple of proposed parking garages.
Below we list five ways you can enjoy Patchogue right now.
Photo: Better Man Facebook Page
Try a local craft beer or spirit
Patchogue is home to a number of local breweries and at least one distillery. Check out the new Blue Point Brewery or Brick House Brewery. If gin is what you crave then stop by Better Man Distillery.
Photo: Museum of Contemporary Arts Company Page/Logo
Enjoy some art
The Museum of Contemporary Arts Long Island is the Patchogue Arts Council's exhibition space. Featuring current and contemporary art by artists from across Long Island. Their exhibitions support, promote, and encourage early, mid-career, and established artists that work in all media and all walks of life. Click here to see a list of their current exhibits.
David Shankbone [CC BY-SA 3.0 (https://creativecommons.org/licenses/by-sa/3.0)]
Hang on the Great South Bay
Catch a concert at Shorefront Park or hit Corey Beach, both nestled against the Great South Bay. Protected by barrier islands, the water does not have the big waves of ocean beaches but still offers a beautiful vista and is a boaters paradise. The park is the site of the famous Great South Bay Music Festival. You can also follow the locals to east at Flo's.
Enjoy a food & drink riverside
A number of spots offer dining and drinks with a view of the Patchogue River. Try a tropical party atmosphere and barefoot vibes at Dublin Deck Tiki Bar and Grill and Off Key Tikki. A classic surf and turf at Drift 82, a fine dining experience at The Oar Steak & Seafood Grille, or seafood at Harbor Crab Company.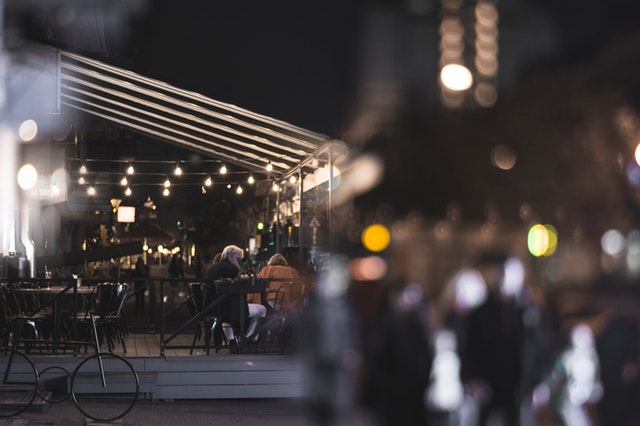 Walk, shop & drink on Main Street
Patchogue's renaissance has led to a resurgence in the walkable downtown Main Street of the village. Eat, drink, groove to live music and shop at any number of restaurants and shops. The list keeps growing as new retail outlets and food places of every style constantly pop up offering fare for every palate. Every summer the village hosts the famous Alive After Five events.