A1 Roofing – Serving the Roofing Needs of LI's Homes and Businesses for 40 Years and Running
A1 Roofing
is a company that has deep roots in the Long Island community, and is currently celebrating 40 years of keeping the roofs of homes and businesses in the region drip-free and safe as can be.
A1 is headquartered in Port Jefferson Station and family-run for two generations, and according to Vincent Malizia – co-owner, along with his brother John – the company specializes in residential and commercial roofing.
"On the commercial side we specialize in maintenance and repairs," Vincent said. "We do a lot of work with banks and hospitals, and we also service Smith Haven Mall and Tanger Outlets in Deer Park and Riverhead. It could be anything from leak repair to an entire renovation of the roof and full new roof systems. There's really no job that's too large or too small."
Vincent noted that A1 Roofing is celebrating their 40th anniversary this year, with the company originally having been founded by his parents – Long Island natives John and Nancy – back in 1981 as a residential roofing company. Vincent and his brother took over the company approximately 7 years ago when his father decided to retire, and it was at that time they felt an expansion into commercial projects was warranted as well.
A1 currently employs about 85 individuals, which is a significant increase from 7 years ago when Vincent and John first took it over and a testament to the extreme amount of growth that they have managed to experience in such a short amount of time.
In the process of gravitating more towards commercial work, A1 has correspondingly lessened the amount of residential repairs that they take on, limiting their work these days to mostly full roof systems.
Vincent said that he and his brother have been surrounded by the roofing business their entire lives. While growing up, they begged their father to let them go on jobs; upon graduating from high school, they both went to college and achieved business degrees. Returning home, Vincent and John started in on the family business, but immediately recognized the fact that, as good as things were, they could be made better.
"When my father started the company, it was a residential roofing company. My brother and I grew up in the business, and after college we decided to transition into commercial," he said. "However, we really had zero commercial clients at first, but we just felt it was an area where more growth could be made. At that point we had many family members involved in the company, and in order to support everyone, we really needed to grow the company further."
Vincent noted that about 98 percent of their commercial clients came from networking with various company owners and managers while attending Long Island business-related events. However, Vincent said that was actually the easiest part of transitioning to commercial roofing.
"The hardest part was finding the guys who can do the work and who were skilled enough, because we weren't as familiar with commercial roofing at that point in time," he said. "We really needed to be able to back up the work. We were able to go out and get the clients, but it was all a matter of keeping them happy, but we were able to overcome those hurdles and start completing some very successful projects that really got us noticed."
Also heavily into the concept of charitable work and giving back to the community, Vincent said that A1 has numerous annual programs that they undertake to help the less fortunate. This is done, he noted, as a way of giving hope to the downtrodden and to show appreciation for all of the success that the company has enjoyed.
"Typically, we'll give away one to two free residential roofs per year," he said. "People can nominate a family in need, someone who's struggling financially, and whose roof is leaking or in need of repair. We'll narrow it down to three or four finalists, put it to a vote, and whoever wins will get a completely free roof from us…they will not pay a dime out of pocket for it."
"Another way we give back is that I'm part of a group called the Kids for Kids Foundation," Vincent added. "We set up anywhere from 8 to 12 events per year, and most of the money we raise goes to St. Jude's or Cohen's Children's Hospital. We just did a golf outing where we raised $527,000 in one day. Also, before COVID came along, would also do a toy drive every year for the Stony Brook Children's Hospital or St. Mary's Hospital in Queens."
Like many businesses during the COVID-19 pandemic, A1 faced their fair share of hardship. Despite being considered an essential business, many of the corporate clients that they worked for were shut down due to strict lockdown measures when the pandemic was at its worst. However, Vincent said that he feels a sense of pride that there were no layoffs at A1 during that time, and that they still managed to do enough business to get by comfortably.
"COVID kind of limited our growth, because typically each year for us has been our best year," he said. "However, we did continue the work because we were considered essential, so we still serviced hospitals and banks and especially the residential market. So the pandemic did have a small impact on our business, but we still did well, and we were able to keep our entire staff working."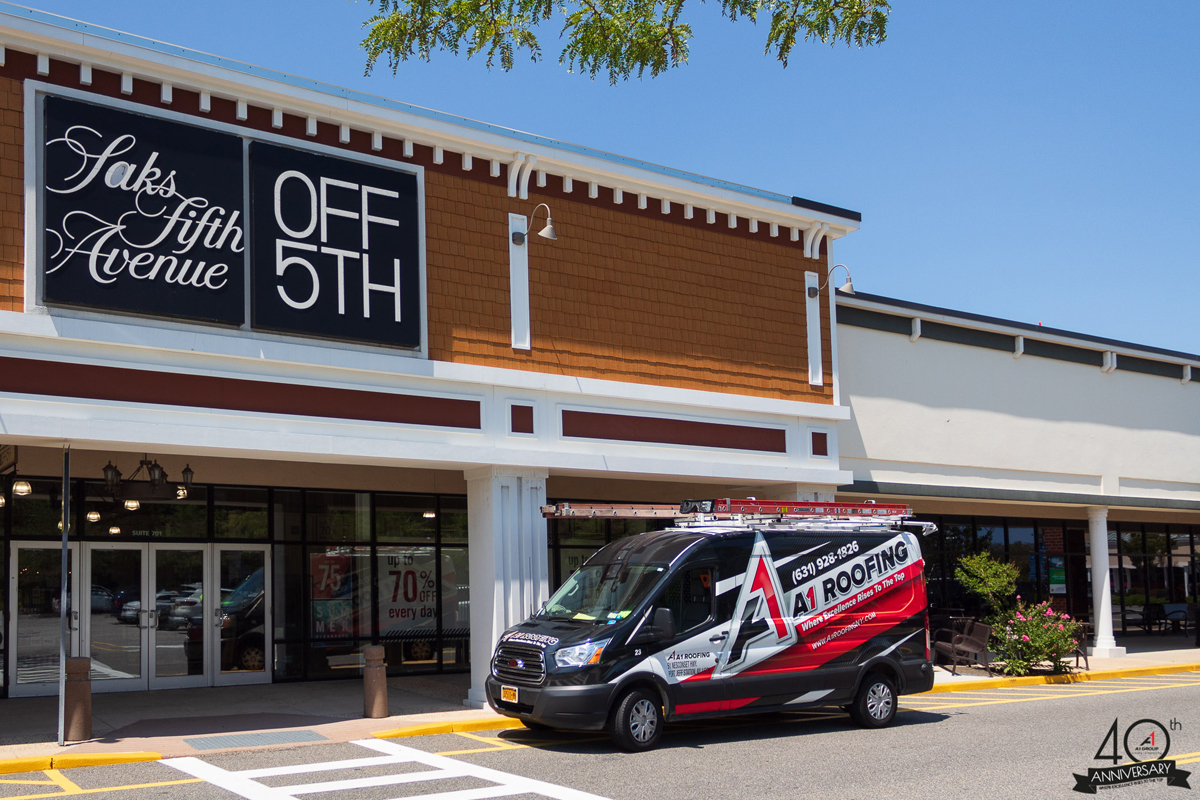 "However, the biggest part of COVID for us was the material shortage. We're currently struggling to get materials," Vincent continued. "If I sold a commercial roof today, I probably wouldn't have the materials for 6 months for some of the bigger-scale projects. Plus the shingle manufacturers we deal with typically make anywhere from 15 to 25 different colors and styles, and they're currently down to between 3 and 5. So we're encountering some challenges, but things should be back to normal eventually."
In the end, Vincent said that he feels a great deal of pride for having taken the company that his father had built and passed down to him and his brother, and expanded its vision and scope to the point where A1 Roofing has grown many times over in a short span of just a few years.
"It's really a great feeling," he said. "You're talking about a company that never really did any commercial work before, it's very rewarding to be able to say 'wow, we built this.' It just goes to show you that if you work hard and you really want it, you can get it. You've just got to work for it."