Elmont, NY - September 30, 2016 - Telling Elmont residents their community is at a crossroads, Blumenfeld Development Group (BDG) president Ed Blumenfeld appealed directly to them to carefully examine the three of proposals the state is considering for development of the 28-acre parcel opposite Belmont Park. Blumenfeld made his case in a mass mailing to thousands of Elmonters this week.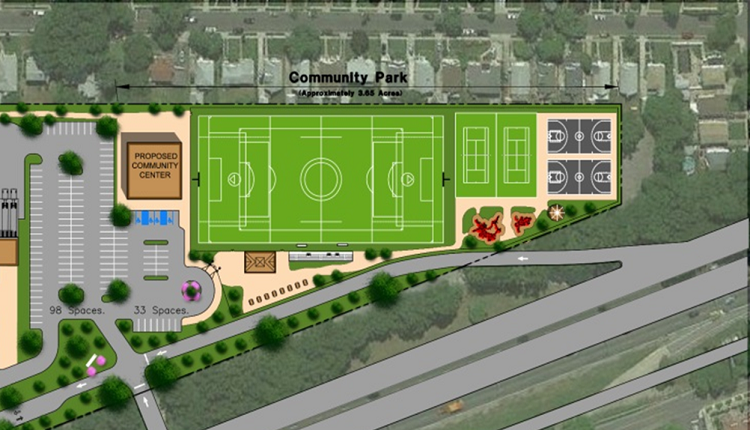 Photo: Community Component - Concept Plan #1 from BDG - includes a Community Center, walking trails, a playground area, a multi-sport field with stands, basketball courts, and tennis courts.
When all three plans are evaluated for long-term viability, job creation, quality of jobs and aesthetics, Blumenfeld asserted that BDG's plans would be best suited for the community. He called one competing proposal "a gamble on a nomadic and unstable minor-league soccer team that will overwhelm the character of the community" and the other "a program by a two-member development team that has no experience creating regionally significant projects."



Photo: Community Component - Option #2 from BDG - includes a larger Community Center, additional walking trails, a playground area, additional landscaping areas and a multi-sport field with stands.
In the "open letter", Blumenfeld added that BDG has put together a thoughtful proposal designed to help Elmont realize the vision it outlined for its future. Its plan includes retail, restaurant, and recreational elements that will serve as a gateway and New York's first Costco Business Center. The BDG plan also includes a health-oriented supermarket, an active park complete with a community center, a multi-purpose athletic field, walking trails, a playground, basketball and tennis courts. He said BDG is committed to making an annual donation toward the operation and maintenance of these facilities

"We believe our plan directly reflects the vision established in 2008 by the residents of Elmont by anchoring the western commercial corridor along Hempstead Turnpike, and providing a shopping, dining and recreational experience for families," said Blumenfeld.

Having grown up in Franklin Square, Blumenfeld said that he believes that he understands the community's needs, but he wants to hear directly from residents. He said he looks forward to working with them to hear first-hand what they identify as their priorities and will collaboratively refine the plan; a hallmark of BDG since its founding in 1978.

"We decided to do a mass mailing to try to reach more people and make sure that the residents of Elmont have a fuller understanding of our proposal and what we have to offer the community," said Blumenfeld. "We need to do everything possible so that people realize that a significant project like this will shape their community for many years to come."

More information on the plan can be found on www.bdg.net/belmont.